Written by: Chris Priestley
Released in the UK by: Hot Key Books, 1st October 2015
480 pages 
---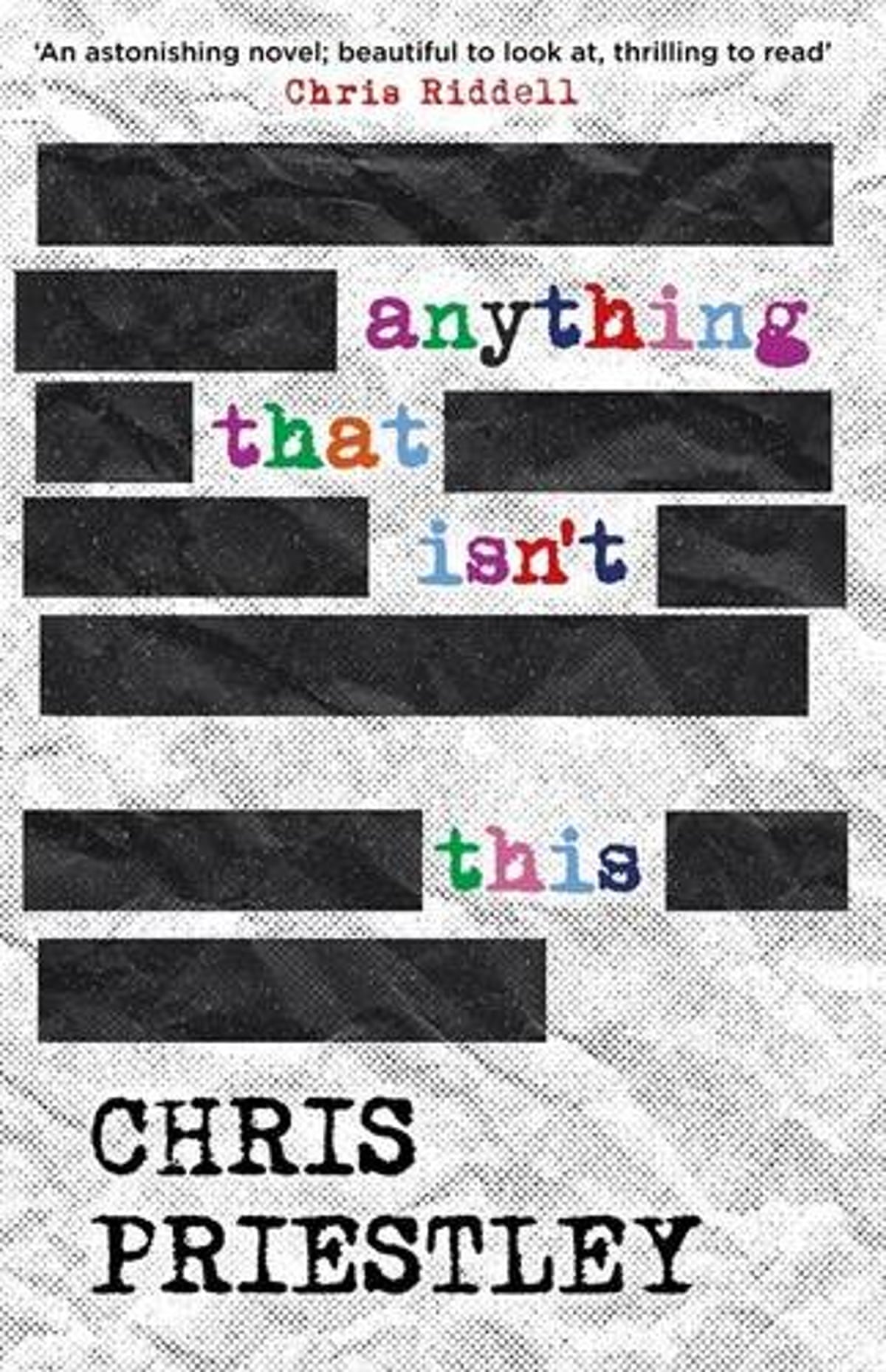 DO NOT READ THIS BOOK
Deep, profound, relevant and moving, this intelligent and absorbing story about escaping from the regimented grey oppression of monotony and living your dreams (even if they don't always live up to expectations) is a stunning and surprisingly diverse read from Y.A. "Master of the Macabre" Chris Priestley, which is also aimed at an older – and less horror-hungry – audience.
Fans of Priestley's popular Tales of Terror series will be happy to know there are shades of spookiness amid Anything's personal battles and romantic drama – a dead grandfather tells stories to those who visit his grave; a girl licking an ice cream is completely consumed by a swarm of wasps – but by-and-large …This… is an altogether different kind of grotesque.
At nearly 500 pages it is a long-but-rewarding slow-burn read which unsettles, mystifies and inspires in equal measure. Rather than be put off by the length, I found myself utterly ensconced in the dense and well-constructed dystopian universe. I couldn't help but marvel at Chris Priestley's often poetic use of language and turns of phrase; this was a masterful novel I was sorry to finish and am desperate to shout about.
Plucky and relatable protagonist Frank Palp's struggle against the grim, characterless regime in a strongly Czech-inspired post-war society where creativity is censored and irregular behaviour is monitored makes for an exceptional and heart-rending journey which twists in convincing and realistic turns. Anything had me rooting for the one guy who was willing to stand up against the huddled masses.
With strong thematic comparisons to such lofty works as Dostoevsky's The Double and Spike Jonze's head-scratching feature Being John Malkovich, the book is also illustrated by the author with bounteous surreal and blocky black and white prints which perfectly complement the strange but compelling narrative. My only negligible grumble was that the final, triumphant page wasn't awash with colour, but I assume this had more to do with the publisher's budgetary restrictions than the author's creative restraint.
Chris Priestley's short, sharp creepy tales have long been favourites of mine (In 2011 I reviewed Uncle Montague's Tales of Terror HERE), but if his future output is as beautiful and affecting as Anything That Isn't This, then I am happy for him to leave the supernatural shudders behind and continue to astonish us with such thought-provoking and evocative real-world thrillers. Ultimately: Anything that IS this!
CR@B Verdict: