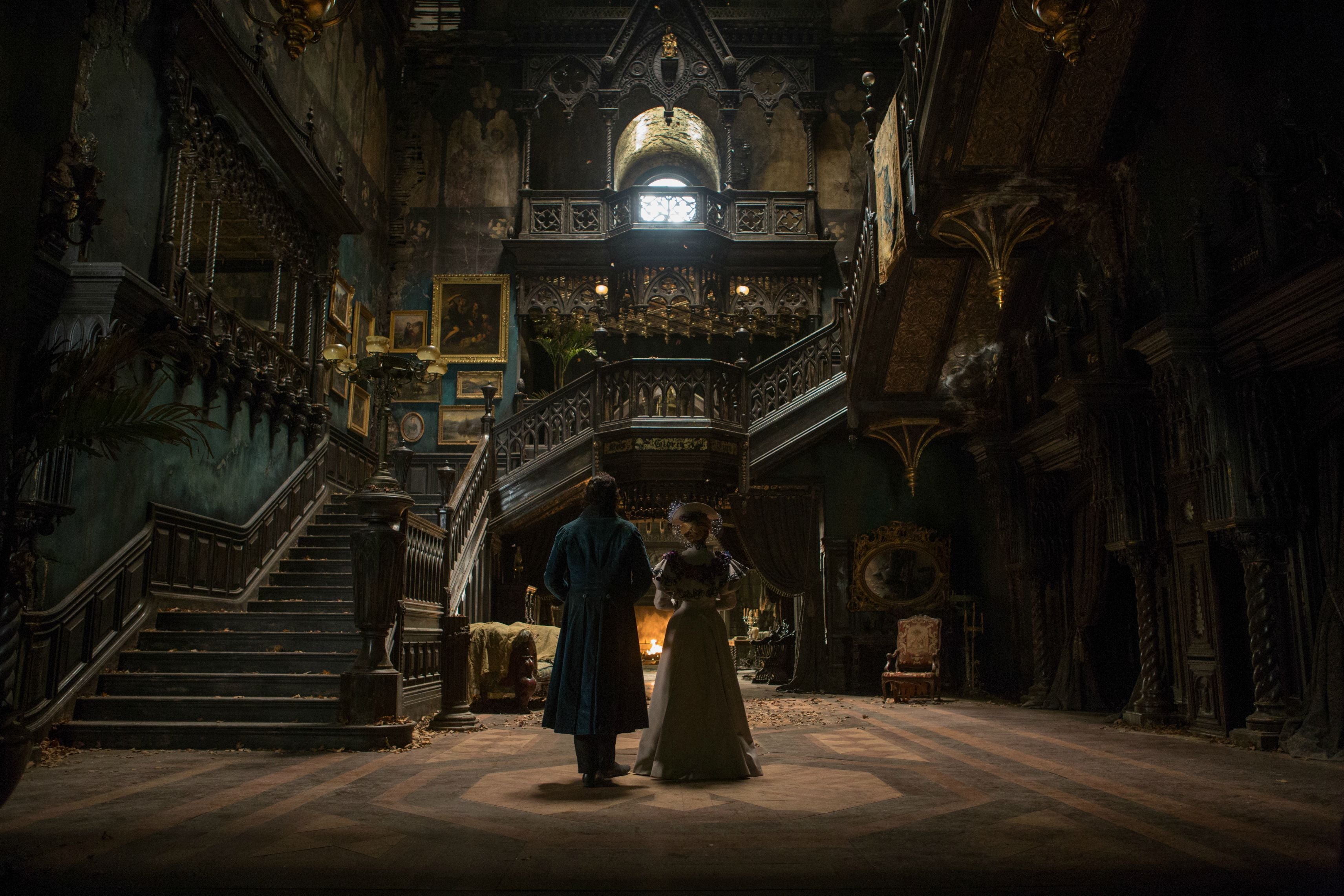 15 – 119mins – 2015
---
TRIP THE LIGHT PHANTASTC
Having taken a scenic detour to the Pacific Rim via Middle Earth, acclaimed director Guillermo del Toro (Pan's Labyrinth, Hellboy) returns home to the horror genre with this sumptuously beautiful love letter to gothic masterpieces. The back cover of last week's region 2 DVD release boldly boasts that legendary scribe Stephen King bestowed the film with the impressive twofold accolade of "Gorgeous and terrifying".
Well, Mr. King is half right. For Crimson Peak is intricately crafted and adorned with dazzling precision, a true archetype for set designers and light technicians in the industry to aspire towards. The screen is never anything less than a feast of towering bygone architecture, swirling snowstorms, portentous phantoms, maelstroms of moths and precisely-orchestrated plays of light and shadow.
But for all its jaw-dropping visual shimmer, the story is a slow and unsatisfying slog, with the stuffy aristocratic air and over-choreographed atmosphere zapping any tension or chills. Budding ghost story author Edith Cushing (Alice In Wonderland's Mia Wasikowska) narrates the deepening mystery surrounding the dilapidated Allerdale Hall and its inheritors, but by signposting any paranormal activity you are no longer shocked by their arrival, no matter how ghastly their appearance or unnatural their gait.
As more is revealed of the true intentions of clay-mining baronet Sir Thomas Sharpe (Tom "Loki" Hiddleston) and his brusque sister Lucille (Zero Dark Thirty's Jessica Chastain), the apparitions increase, but become ever-more redundant to the resolution of the plot as an influx of stabbings dominate. For such an otherwise tame horror, del Toro does shock with a profuse amount of blood (well, the colour is in the title), with one early scene in particular sickeningly brutal and unnecessary.
CR@B Verdict: