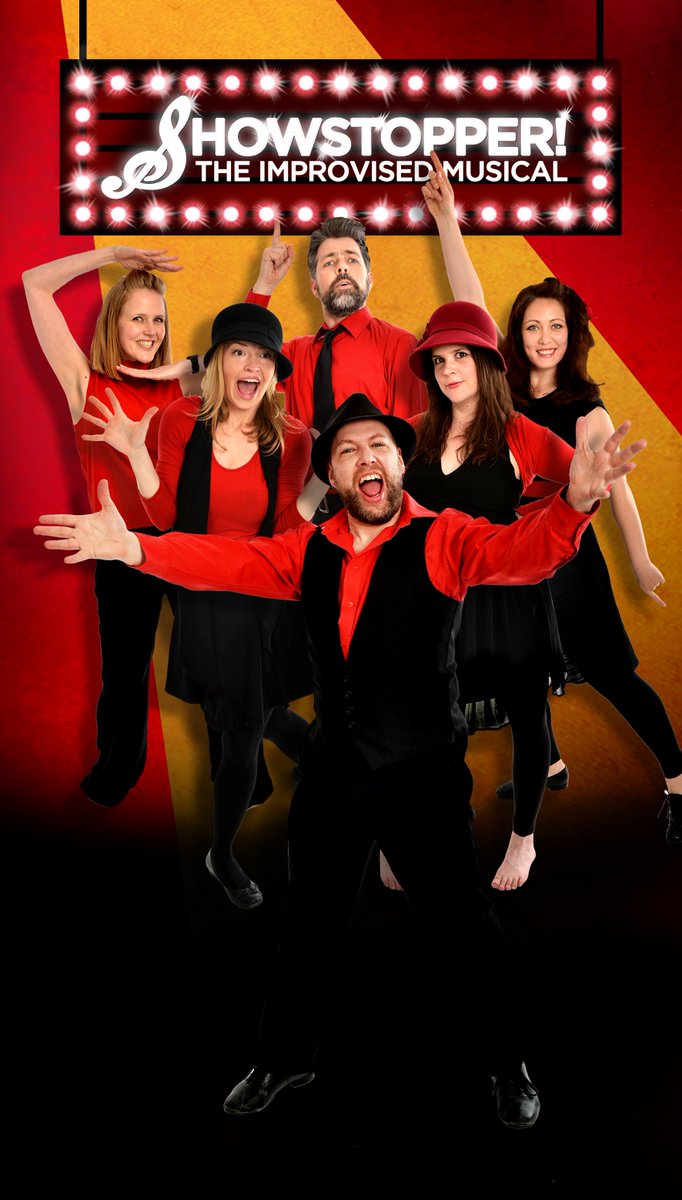 Cambridge Arts Theatre – 27th February 2016 – 7.45pm
www.showstoppers.org
---
FROM SCRATCH TO STAGE
"Not too near the front," I requested to the box office saleswoman only half-jokingly as she asked how close to the stage we minded sitting as I booked tickets to a show which promised audience participation in crafting an entire musical extravagance at the outset of every performance.
I was certainly curious to see how successful such a bold – and, let's face it – potentially disastrous enterprise could be, but I was less interested in being a part of the production! The saleswoman belayed my nerves by assuring me that while the audience would be asked for suggestions, they would NOT be dragged up on stage! Relieved, I agreed to an end seat on Row E, and just prayed that the cast would at no time wander the aisles mid-show.
To my relief as we tentatively put bums to seats last night for The Showstoppers' final performance in Cambridge, they did not. With the house lights still on, the show got underway with MC/compère Pippa Evans asking the audience to proffer suggestions of theme, plot, musical styles and punny title for a new musical she was hoping to pitch to influential West End producer extraordinaire "Cameron Mackintosh" by the end of her "phone call"!
My enthusiasm took a bit of a hit as some very middle class suggestions were put forward (politics, on a Saturday night?!), with "Behind the Scenes with Donald Trump" (eurgh!) eventually garnering the loudest applause over wedding and Le Mans-based suggestions.
Fortunately – and to my great relief – even a passing knowledge (and minimal interest) in America's bad-haired clown du jour was enough to enjoy this thoroughly astonishing, hilarious and altogether unique theatrical experience.
Once the musical's title – "Nellie the Elephant Lost Her Trump" – and a vast range of musical styles – ranging from The Lion King and Little Shop of Horrors to Gilbert & Sullivan – were written on a white board to stage right, the lights went down and I could sit a little more comfortably…
"For those who have not seen us before: everything we say, sing and do is entirely improvised. There are no plans and nothing to fall back on!"
With Pippa sat at a desk next to the white board throughout and only occasionally interrupting to shout instructive cues or gauge audience acceptance of a plot development, the rest of the performance was left in the sharp and spontaneously-capable hands of the brilliantly inventive improv. actors and musicians, who somehow managed to generate a polished, funny and engaging production on the spot, with no sense of uncertainty or nerves ever apparent as they sang, danced and imitated their way through Donald Trump's farcical campaign trail – and relationship with his speech writer, Nellie – in his bid to become POTUS.
Sure, there was the occasional missed cue, escaped chuckle or fluffed line, but this all added to the personable appeal of a truly talented and capable troupe who were literally at the mercy of the audience from the off. What if they hated the chosen theme or characters, I wondered? But there was no sense of displeasure or sapped energy as they gamely rattled through the ninety minute live-brainstorm with gleeful abandon, crafting catchy lyrics and toe-tapping routines while the keyboard plays them in!
Thoroughly TRUMPing my expectations, I cannot sing The Showstoppers praises highly enough – and the fact that no two shows will ever be the same, lends this spectacular creative curio literally limitless re-watch value. I would happily pay to see them perform time and again – political theme or not!
CR@B Verdict: