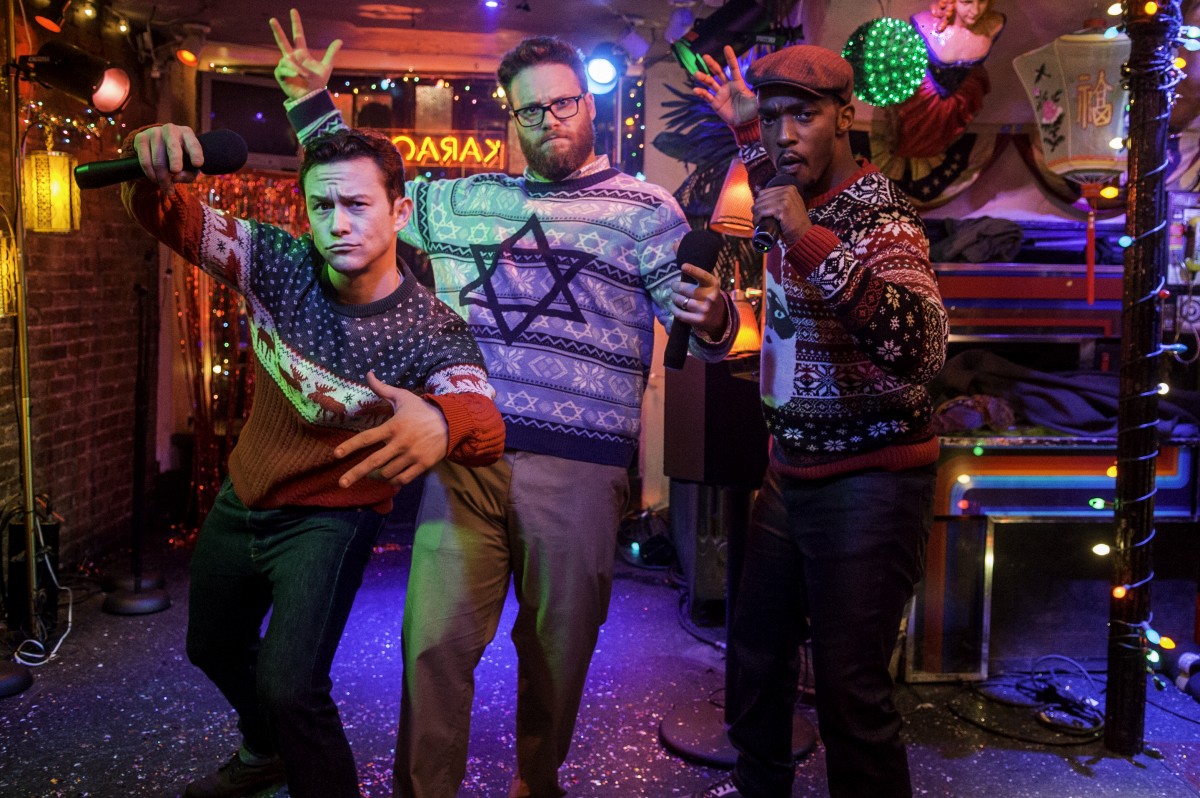 15 – 97mins – 2015
---
DICK THE HALLS
For people of a certain age and particular mentality, this is a fun and easily accessible conglomo-homage to all the classic Christmas movies they watched growing up (Home Alone, Die Hard, Santa Claus: The Movie, It's A Wonderful Life, The Grinch), fused with some trademark Seth Rogan stoner humour and life-affirming epiphanies. For everyone else, this is a series of crude and lazy riffs on more popular films which are used as a crutch to support some frankly immature and indecent japes, with the whole sorry affair tied up in an overly-sentimental bow.
From the guys who brought you Pineapple Express comes yet another excuse for Seth Rogan to get his bezzie mates in a film, with The Walk's Joseph Gordon-Levitt and Anthony Mackie completing a trio of lifelong friends who meet up every Christmas Eve to totally lose their shit to drink and debauchery in an effort to help JGL's Ethan get over the painful time of year when he lost his parents 15 years earlier.
Realising that work commitments, family responsibility and adulthood are looming and pulling them all in different directions, the ladz decide to hang up their annual festive tradition with one final motherfunkin' blow-out at the Holy Grail of Christmas parties – the elusive, invite-only Nutcracka Ball. I suppose an alternative title could have been This Is The End of Christmas Tradition.
Bewilderingly, Isaac (Rogen) is gifted a Pandora's box of drugs by his astoundingly understanding pregnant wife (Jillian Bell), while newly famous football star Chris (Mackie) is desperate to avoid his smothering mother (Lorraine Toussaint) and score some weed to impress his domineering jack-ass of a team captain (Aaron Hill). Commitment-phobic Ethan, however, is just looking for a chance to forget what a mess his life is in and hang out with his childhood buds – until he bumps into his ex (Lizzy Caplan), and realises he may have made a big mistake in letting her go…
With swapped mobiles, stolen stashes, chance encounters and an enigmatic drug dealer (Michael Shannon) busying their road to the Ball, the bromance suffers some kicks to the nether-regions before the pals get wise and comfortable with growing up and settling down. It's a sweet and timeless message to end on, provided you can endure a crowbarred Miley Cyrus sing-along (akin to her stint in A Very Murray Christmas) and James Franco dick pics (yes, you read that right) en route.
CR@B Verdict: