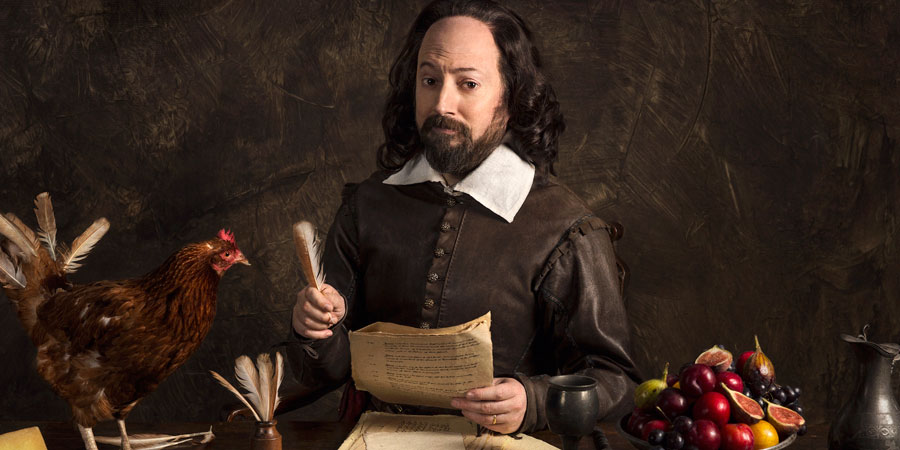 BBC Two – 10pm – Monday 9th May 2016
Written by: Ben Elton
Directed by: Matt Lipsey
---
MAN BEHAVING BARDLY
Comic legend Ben Elton returns to familiar ground with this six part historical sitcom set in Tudor times. Horrible Histories' Bill meets Blackadder in this farcical and fictionalised look at what "really" inspired William Shakespeare's most renowned works, broadcast to celebrate what would have been the Bard's 400th birthday.
In Monday's opening episode, it is 1592 and rising playwright Bill (Peep Show's David Mitchell) has had some stage success with his royal dramas (the Henrys), but is struggling to branch out into romance with his first draft of Romeo & Julian ("it's a working title") lacking a potent conclusion.
When his rival, "Master of Revels" Robert Green (Friday Night Dinner's Mark Heap) demands our writerly protagonist babysit his lovelorn student nephew Florian (Kieran Hodgson) or have his play licence revoked, Bill has no option but to reluctantly agree. Will young toff Florian's randy ways prove Bill's undoing, or just the muse he requires to complete his unfinished work?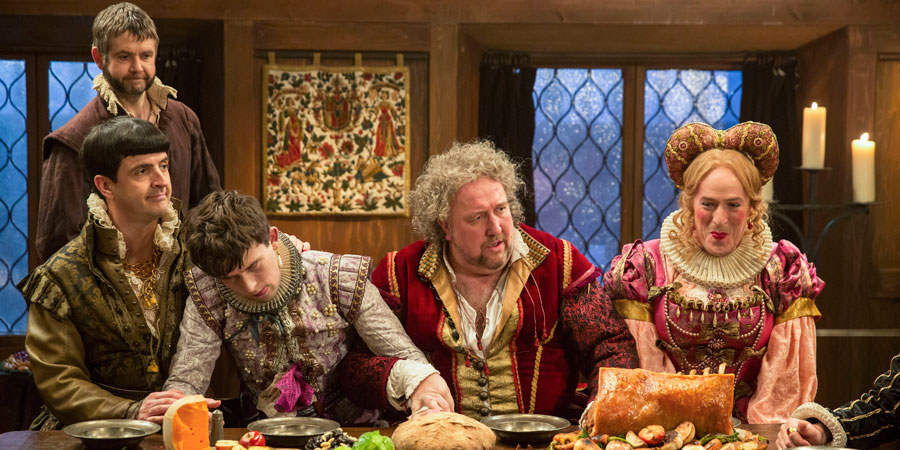 Filmed in front of a live studio audience with some rather intrusive laughter signposting the punchlines, Upstart Crow is a tonally multifarious beast which takes its time to settle into a comfortable rhythm. The stagey, claustrophobic sets and high gag rate recall the hit BBC sitcoms of yesteryear, however these historical characters are gifted very modern, agitated demeanours – promoting female equality and moaning about the cheapness of knock-off brands, for instance – even when speaking in their olde worlde tongue.
"Bechambered hugger-tugger"
This is undoubtedly to make what many today believe to be highfalutin English literature palatable for a less-inclined twenty-first century audience (many jokes are made from Bill's family failing to get the gist of his "flowery" dialogue without "lengthy explanation and copious footnotes"), but a couple of lazy anachronisms ("Master Bater", "wankington") sneak in simply because they raise an impish titter – as does the word "roistering" which is the only blatant case of Blackadder recycling (even if the plot veers close when a corpse is involved).
Bill strongly believes that "theatre should be challenging," which makes Upstart Crow's occasional reliance upon cheap laughs ("strum my lute") all the more obvious. Thankfully in a script as replete with materials as this, a couple of awkward and cringey duds can be forgiven, as can its tongue-in-cheek potshots at its iconic source material (126 sonnets being written from Bill to a young boy… "it was platonic!").
The bulk of the action is set in Bill's London digs with chambermaid Kate (Gemma Whelan) and illiterate Baldrick-alike dogsbody Bottom (Rob Rouse) often unknowingly providing the Bard with vital plot assistance. But "Star Crossed Lovers" is framed by scenes set in Bill's Stratford-upon-Avon homestead. The calibre of the actors in these brief bookends (Harry Enfield, Paula Wilcox, Liza Tarbuck) implies that their roles will be expanded in later episodes – and on the merits of this scene-establishing debut I'm willing to return next week to see if that is the case.
CR@B Verdict: