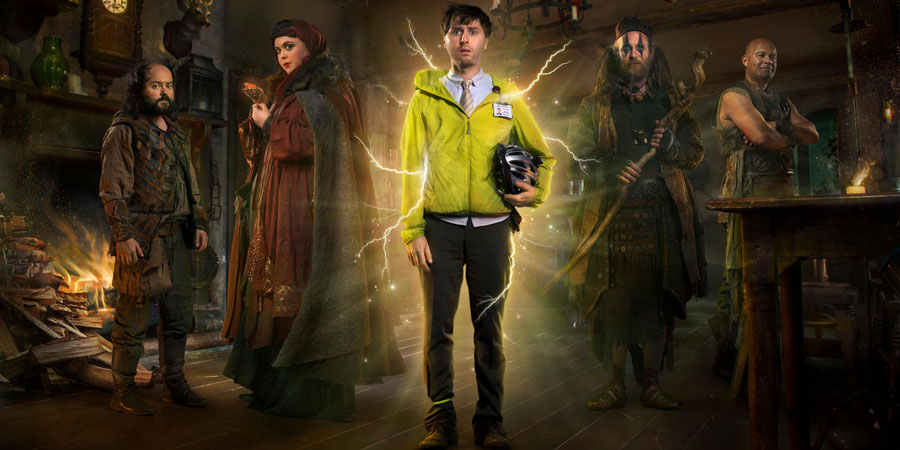 Dave – 13th October 2016 – 9.40pm
Written and created by: Dan Gaster, Will Ing, Paul Powell
Directed by: Dave Lambert
---
FANTARAMA
"I can categorically state that nothing of note will happen today…"
If delivery boy Philip J. Fry was transported to Middle Earth instead of the year 3000, Matt Groening's Futurama could easily have been an animated prelude to Zapped, a new Dave-commissioned fish out of water sitcom which – like the digital channel's other genre-quashing weekly chucklethon Red Dwarf XI – is available to stream on UKTV Play a week ahead of broadcast.
The Inbetweeners' James Buckley is perfectly cast as sad-sack IT temp Brian Weaver, a work-shy, deluded average joe who is an older, more exasperated Jay in all but name – even down to a scene in which he pretends to be James Bond in order to impress his new pals from a parallel world.
You see, thanks to a postal mix-up (grrr, Royal Mail!), Brian receives a magical amulet in the mail instead of a new phone charger, and when tries on the "new bling" he is Zapped from present day Middlesex to ye olde fantasy realm of Munty in the Western Marshes – within the first two minutes!
Welcome to The Jug and Other Jug, a gloomy watering hole run by Herman the barman (Louis Emerick) and frequented by regulars as blindly pathetic as Brian: Steg (Cuckoo's Ken Collard), who fights for social injustice on account of the fact he is constantly bullied about his height (his mother was a giant and his father a dwarf, you see), and Barbara (My Mad Fat Diary's Sharon Rooney), a soothsayer who can't predict the future.
Scared and confused, Brian and his newfound posse seek out the amulet's intended recipient, emporium owner Howell (Paul Kaye). The purveyor of spells and magical artefacts dresses like a "tramp" and acts like a cut-price Jack Sparrow. Can the gin-loving wizard reverse the amulet's effects and get Brian back to work and his apathetic crush, Jess (Jessica Ransom)? Or is he more interested in making a quick buck from the magical bracelet?
"I'd quite like to go home now please!"
Produced by a company as established as Baby Cow Productions (indeed, Steve Coogan is listed as an executive producer), Zapped clearly has some money behind it. The rustically authentic-looking sets and slew of star names attest to their confidence in the concept. There are a number of neat and smirk-worthy flourishes on show in this pilot episode: feral furniture, chicken-headed men, brutish fairies (one of whom is Ricky Grover) who police the use of magic in the realm, and the topical reveal that Donald Trump is a troll from this alternate dimension.
Bridget Jones's Sally Phillips is a devilish revelation as the psychopathic-but-loving-it Slasher Morgan ("people's kneecaps don't break themselves"), so I hope she gets more screen time in future episodes, while I was impressed armchair revolutionary Steg and his chairperson 'skills' were granted a B plot. Sadly, such is the curse of an opening episode, character introductions and establishing the status quo do take precedence over the jokes in "Mr Weaver", so apart from two punchlines (mint tea; anus), I was smiling rather than roaring with laughter throughout.
I could quibble that the plot's culmination in requiring Brian to interject during an under-the-table barroom business transaction was somewhat contrived when the amulet he requires is right there for the taking while the intricacies of the plan are ironed out, but kudos to the trio of screenwriters for managing to tie even the phone charger thread into a neat conclusion. Well, I say conclusion but cliffhanger is more appropriate:
"Everything's just gone massively wrong."
While Zapped is never as overt or uproarious as the similarly set 2009 BBC sitcom Krod Mandoon and the Flaming Sword of Destiny, episode 1.1 is a healthy foundation on which to build in the coming weeks. Strong cast, impressive production values and a quirky situation rife with opportunities for hilarious bewilderment ("Impressive… doors that slide!") and high-concept adventure. Barbara may not know it, but I predict the future is bright for Zapped.
CR@B's Claw Score: