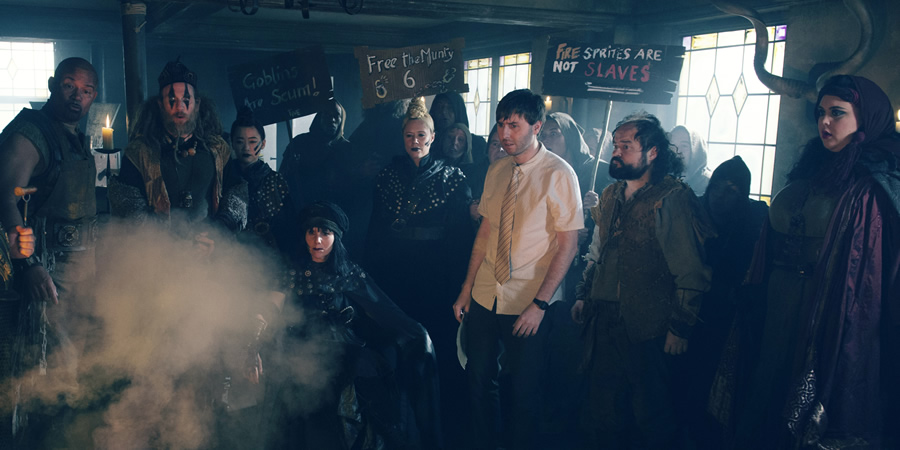 Dave – 27th October 2016 – 9:40pm
Created and written by: Dan Gaster, Will Ing, Paul Powell
Directed by: Dave Lambert
---
WHEN YOU WISH UPON A SPRITE
"By the leathery balls of Krunt!"
Tablet issues and real life (John Carpenter gig, theatre trip, annual leave, return to work) have meant I'm wildly belated in publishing my final review of this stunted series of Dave's fantasy sitcom. Fortunately, it is still available for the next 89 days on the UKTV Play catch-up service, so this review is still relevant – and I was determined not to leave Zapped incomplete, even if this finale did just that, with Brian Weaver (James The Inbetweeners Buckley) still stuck in an alternate dimension come the closing credits.
Still, my hopes are high that this intriguing taster of a first run has proved successful enough for the freeview comedy giants to grant Black Dog Television and Baby Cow Productions a return to The Jug and Other Jug, Munty and permit the out-of-time office temp a proper route home.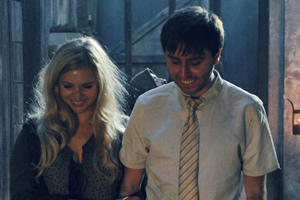 Like 1.2, the most solid element of "Mr Wuffles" is the writer's exquisite structuring. A throwaway pop culture reference to David Beckham's free kick heroics is masterfully called back to at the climax whilst simultaneously paying off jealous Barbara's (Sharon Rooney) clumsy prediction ("You will stand before a great army!") and bringing the titular creature pet (a giant beaked Throck) and Howl's (Paul Kaye) sausage-making contraption crashing together in riotously chaotic narrative harmony.
Earlier in the episode, armchair revolutionary Steg (Ken Collard) continues his façade of saving an endangered species in order to bag a beauty – problem is, this beauty (Miranda Hennessy's Effandra) is more interested in Brian and might just have persuaded him to ditch his homecoming efforts in order to stay stranded for good…
Steve "A-ha!" Coogan's cameo as a wish-granting Fire Sprite is by far the highlight of this third half hour with his shruggingly indifferent early exit brilliantly undercutting his star power. Personally, 1.3 never quite matched the uproarious peaks of "Mr Charisma", but there is great potential in Zapped's quirky fantasy realm, and I feel like we have only peaked the tip of the krankelroot in these inaugural escapades. I am pleased the concept remains unresolved and I look forward to the possibility that we will see Brian's continued efforts adjacent to Red Dwarf XII this time next year.
CR@B's Claw Score: