Written by: Susan Hill
Published in the UK by: Profile Books, 29th September 2016
183 pages
---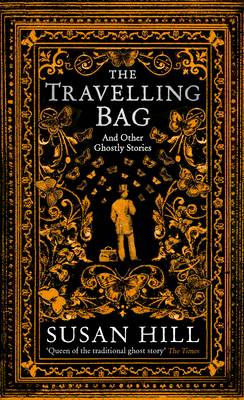 CLASPING AT MOTHS
Kickstarting a cash cow of a franchise which has spawned two feature-length box office hits for the resurrected Hammer Films and a seemingly ineradicable West End theatre production, The Woman in Black has cemented author Susan Hill's sovereignty as the Queen of gothic ghost stories. Amidst a prolific bibliography which spans the genres and demographics, in the 33 years since its publication, Hill has often returned to supernatural fiction, always with great anticipation.
2014's substandard Printer's Devil Court – measly in content, generous in page-filling photographs and shambolic in proof-reading oversights – might not have lived up to expectations (I suspect it was rush-released to cash in on the Halloween market), but I had hope that Hill's latest collection of four short supernatural shockers digestible in a single sitting could iron out the dent in her crown…
THE TRAVELLING BAG: Structured in the ripe and cosy old-fashioned tradition of a Victorian mystery recounted to an engrossed audience, this titular story – about a paranormal detective's most bizarre case – has all the eerie elements of success (right down to the left-wing choice of phobia which befalls the antagonist, a phobia which I also suffer from but precious few others can relate to), but squanders it in a flabby and bland style which invites twists but delivers none. Ultimately the construction is laboured, unnecessary and the denouement – unknown to the narrator and bolted on as a bonus from another perspective – horribly disappointing.
BOY TWENTY-ONE: Heavy in disembodied snatches of dialogue in an attempt to establish a relatable scene, story two is a more traditional ghost story about a lonely pupil's "extra" friend. Alas, it is stronger in atmosphere than narrative gratification. The house fire which acts as a catalyst to protagonist Toby's childhood memories and the parental disharmony which is so heavy at the start, never feed into the tale again, the recount tailing off without a suitable crescendo to compliment the creepiness.
ALICE BAKER: As a floor full of office workers prepare for a seemingly never-materialising move to a new building, they welcome a new member to the team. But as efficient as Alice Baker is at her job, her lack of social pleasantries and the foul whiff of decay which seems to linger around her mean that her colleagues are left ill at ease… Packed with promise, this third short was the first to give me goosebumps. Sadly, the climactic revelation isn't quite as splendid as the build-up, lacking a truly original twist.
THE FRONT ROOM: Hill saves the best for last with this tale of a religious family guilt-tripped into taking in their lonely old stepmother, only to rue the day they let evil lodge in their renovated front room. As said malevolent incarnation, pensioner Solange's curmudgeonly behaviour (cruel, spiteful, ignorant) is in truth more rude than devilish, but this culminates with a shockingly sadistic sting in the tale. I could have done without a repeat of evil being represented by a foul smell for the second story in a row, while Hill's brusque writing style could have benefited from more flesh on its skeletal bones, but otherwise this is a strong encore to a middling collection.
CR@B's Claw Score: