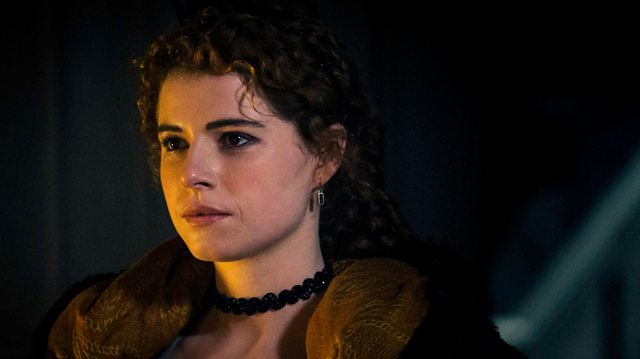 BBC One – Saturday 21st January 2017 – 9:15pm
Created by: Tom Hardy, Edward "Chips" Hardy, Steven Knight
Written by: Steven Knight
Directed by: Kristoffer Nyholm
---
A PINCER MOVEMENT
After a fortnight of moaning that episodes 1.1 and 1.2 of the BBC's Ridley Scott-produced historical miniseries were more concerned with entrenching us in grimy atmosphere than propelling the story forward, with Saturday's third instalment opening with cunning comeback kid James Delaney (Tom Hardy) weak and wobbly after being stitched up from the knife wound he sustained at the hands of a bonneted assassin, I feared we would be in for another hour of slow burn consternation as our enigmatic protagonist recovered from the thrust of a blade.
"Your devil saved you…"
Pace is still a niggle with Taboo, an issue not aided by a ballooning cast. Hardy aside, some seemingly main players are afforded very little screen time week-on-week, with half-sister Zilpha (Oona Chaplin) and East India Chairman Stuart Strange (Jonathan Pryce) granted little more than two scenes apiece. Furthermore, last week's surprise addition, the deceased Horace Delaney's widow, Lorna Bow (Jessie Buckley) didn't even feature until halfway through this week's proceedings! Thankfully, her participation proved more prominent come the close of play.
While far from nippy, the plot thickens tantalisingly in episode 3, with "savage boy" Delaney demanding a monopoly on Tea Trade in exchange for his claim on inherited land the Nootka Sound. The introduction of his will bequeathing his possessions to America also greatly affects the state of play: now it is in the interests of the bumbling sovereignty (Mark Gatiss) and nefarious East India Company – who last week ordered a Malayan hitman to take him out – to keep him alive, and it is they who approach actress Miss Bow back into this tangled web of spies, informers and self-serving backstabbers.
Astute, super-cunning and courageously independent, Delaney seems to have a handle on all that his opponents throw at him. While still troubled by voodoo visions linked to his African ma, he seems resolute and unrattled even when Zilpha's side-lined husband (Jefferson Hall) calls round to provoke him with cruelly intimate details about his sex life with James' half-sis. But then a following rendezvous with Zilpha and her brother proves eye-raising in insinuating what a strange relationship they once shared…
With employers using and betraying the pawns in their service, it has never been more crystal clear that in Taboo's London, trust is in short supply. For all his redeeming qualities, I'm still not entirely certain that I trust our leading man. In the blink of an eye he can flip from sympathetic listener to face-slapping bully. Yes, he gets results, but when he is the character whose journey we follow in a sea of fleeting faces, the audience need to be able to empathise with him to some degree, and I find the barriers he refuses to drop from around his heart – and his past – make him a hard lad to warm to.
In short summation: still grisly and still in no sense of a hurry, but the ever-complicating melodrama is beginning to intrigue me in a way that the rotten characters are failing too. Taboo episode 3 is the best of the series of far.
CR@B'S Claw Score: