BBC Two – 22nd February 2017 – 10pm
Created and written by: Steve Pemberton and Reece Shearsmith
Directed by: Guillem Morales
---
DIDDLING THE DIDLUM
It doesn't feel like five minutes since I was sitting in the glow of the fairy lights, sipping on eggnog while watching festive special "The Devil of Christmas," a Krampus-flavoured twist on rose-tinted TV nostalgia and dodgy DVD commentaries. It was a story I admired in concept more than I enjoyed its execution. Skip forward almost two months and Psychoville alumni Steve Pemberton and Reece Shearsmith are back with a further five episodes of their hit comedy-horror anthology series set inside widely disparate locations with just the door number in common.
Set entirely in tapas restaurant 'number nine' at the tail-end of a busy service, series three opener "The Bill" scales back "The Devil of Christmas"'s scale, ambition and overt genre sensibilities, but is all the more successful for procuring the most out of its limited cast and setting. What starts out as a banterful, if boastful, post-badminton meal between a group of four friends soon descends into out-right hostility when waitress Anya (Ellie White) brings the cheque to the table. You'll think twice about being generous ever again.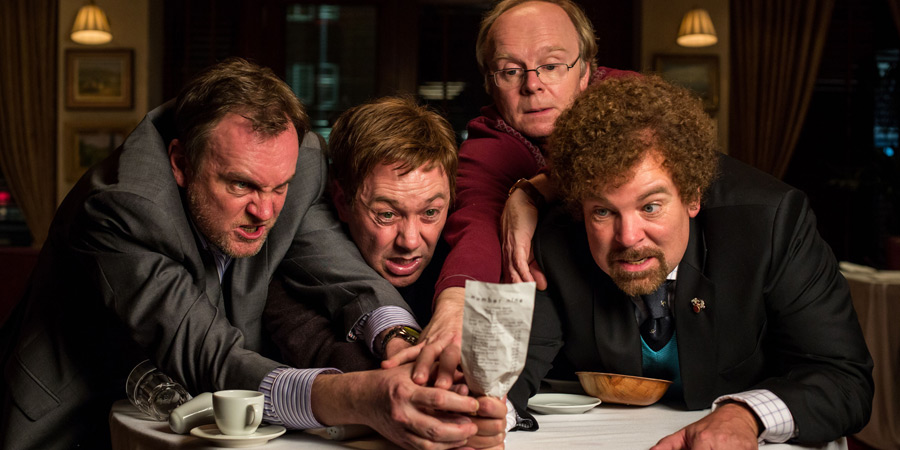 Squabbling over the 'honour' of paying is "Prof" Kevin (Jason W1A Watkins), the tight-fisted, easily-intimidated runt of the litter, long-time besties Archie (Shearsmith) and Malcolm (Pemberton) whose friendship is peppered with long-gestating grievances which are worryingly quickly brought to light, and newcomer Craig (Philip Big School Glenister), a smug divorcee from London in town for a seminar. Will "guest prerogative" win-out, or will the amiable atmosphere dissolve into lies, outrage and a dubious game of 'pin finger'? Someone go fetch a knife from the kitchen…
Despite the small concept, the characters are bold, unique and, as the argument dredges up disturbing home truths, deeply complex. Their diverse personalities rub up against one another brilliantly to produce a fizzing, amusingly relatable and smartly pitch-black script which I could happily watch more of. Yep, like a total rube I was completely lured in!
I knew a twist was coming, such is the nature of Inside No. 9's template, yet when it arrived my mouth still fell agape with shock. Things get dark – very dark – and then the writers apply a further twist. "The Bill" delivers quite the sting in the tale and I'd be only too happy to leave a tip for television this witty and inventive. But maybe I'll pass on a mint.
CR@B's Claw Score: