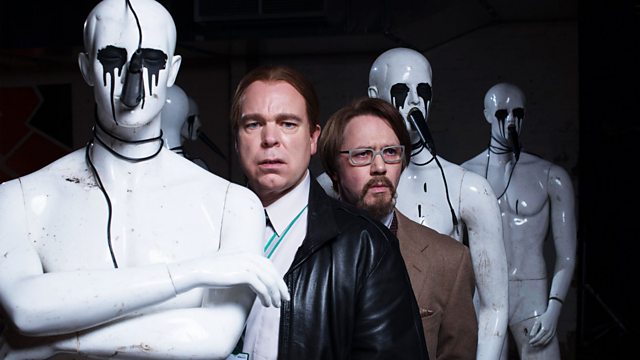 BBC Two – Tuesday 21st March 2017 – 10pm
Created and written by: Reece Shearsmith and Steve Pemberton
Directed by: Guillem Morales
---
LIVING EXHIBITION
Mastermind all-rounders Pemberton and Shearsmith bring this third batch of their comedy-horror anthology series to a fittingly glamourous close with this witty murder-mystery set in a modern art installation, featuring a remarkable all-star cast. While "Private View" doesn't quite hit the exceptional highs of deceptively simple post-Christmas special kick-starter "The Bill", it is the funniest, most audacious and grizzliest story yet.
"This is all a bit Agatha Christie, isn't it?"
After canape-scoffing assistant (Peter Kay) is skewered on a knife-seated artwork ironically named "Make Yourself Comfortable," a select group of seemingly unconnected strangers are brought to the basement of art gallery 'nine' for an invitation-only viewing of deceased artist Elliott Quinn's (Johnny Flynn) exhibition, Fragments. Among their number are chavvy Big Brother contestant Carrie (Morgana Robinson), blind erotic author Patricia (Felicity Kendall), college lecturer Maurice (Shearsmith), chatty retiree Jean (Fiona Shaw), Health and Safety council worker Kenneth (Pemberton) and tattoo-mad waitress Bea (Monserrat Lombard).
While the diverse guests peruse the immersive works in the gallery's garish neon glow, the macabre imagery of brain-tumour victim Quinn's collages reveals itself. "I thought it was a dummy!" Carrie screams when Peter Kay's corpse slumps forward onto the blood mirror floor. And so the murders continue, with the scared and confused survivors picked off one-by-one in increasingly inspired ways (phone stuffed in mouth, eyes gouged out, suffocation by plastic bag…). "At least I made it to the final five," bimbo non-celeb Carrie remarks with a wicked tragic irony just before she snuffs it.
Although Inside No. 9's thirty minute instalments rarely drag, "Private View" zipped along at a thunderous pace to such an extent that I feel it could have benefitted from perhaps a few minutes longer. While the identity of the murderer – previously only represented through P.O.V. shots – is revealed at the mid-way point and the devastatingly twisted reasoning behind the killings is announced James Bond-style while the final victim is tied to a chair, a supplementary twist in the epilogue almost defies reasoning and is never explained, seemingly only carried out so the series could end on a devilish piece of wordplay. It's a killer line, no doubt, but I would have been more accepting of it if I could have deduced how the narrative jump between final scenes was achieved.
CR@B's Claw Score: