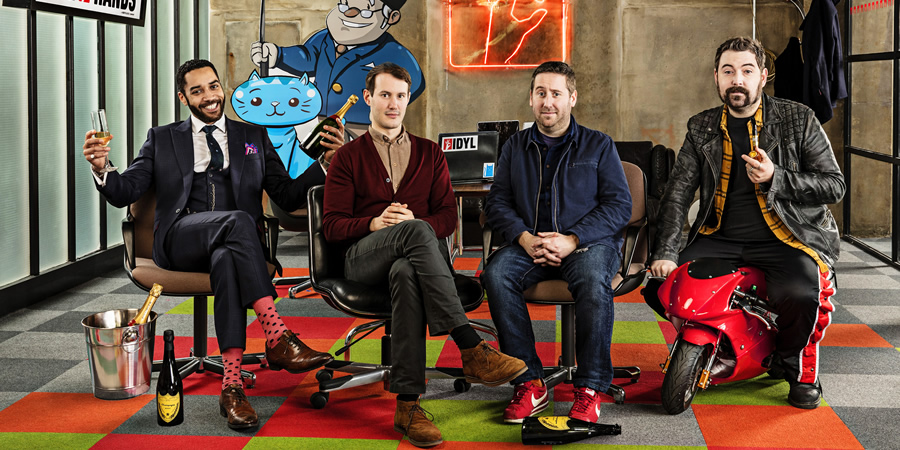 Channel 4 – 10pm – Monday 8th May 2017
Written by: Jon Brown
Directed by: Ian Fitzgibbon
---
FILTHY RICH AND CAT APP
My disappointment at learning that series 3 of Nick Helm's refreshingly honest BBC Three sitcom Uncle was its last was somewhat assuaged when I learned that the brash bearded comic was playing one of four lead roles in Channel 4's new eight-part comedy-drama Loaded, which sees Helm's ex-junkie computer genius Watto and three life-long mates become overnight multi-millionaires when they sell their Candy Crush-alike mobile phone app, Cat Factory, to an American company for a staggering $14billion EACH.
Last night's premiere, "Lawsuit," did a serviceable job of introducing the distinctively characterful foursome – Watto and his past addictions, straight-laced worrier Josh (Jim Howick), nervous social-dud Ewan (Jonny Sweet) and in-the-moment fun-lover Leon (Samuel "Danny Pink" Anderson) – while also planting the seeds of drama to come. Namely, money can't buy you love or happiness, only problems, particularly now they have been "brought out by the Empire," AKA. game developers Idyl Hands, run by hard-nosed American Casey (Mary McCormick).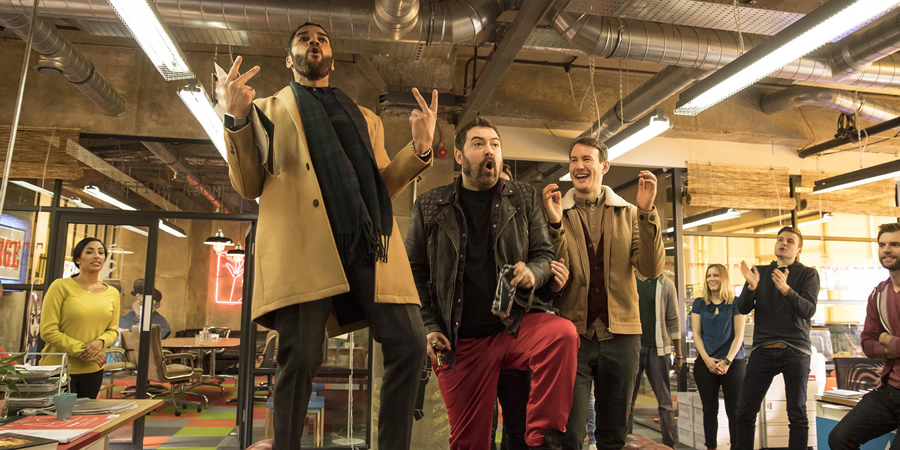 The lads' joy is almost immediately tainted, and this cloud of paranoia fails to dissipate, even this early into their new, super-rich lifestyle. Now they are "certified sue-able," all manner of cockroaches will scurry out of the woodwork to claim their unearned share, such as ex-associate Ross "the grumpy druid" (Tony Way), who slaps them with the lawsuit of the title for, allegedly, stealing the design of his cat tattoo as the basis for their app's main character.
There is an underlying dourness to Loaded which I'm struggling to define this early on, but the dramatic element definitely suffocated the comedy for me in this first episode. Of course, it is also true that their first suggestion for how to spend their cash was on "vengeance" against those who never believed in them, so self-destruction was present all along. I just hope that future instalments will allow us a greater percentage of fun, witty dialogue ("you've been smug-bombed!") before their unmanageable new bank balances destroy the friendship between these amiable, if flawed, besties.
CR@B's Claw Score: