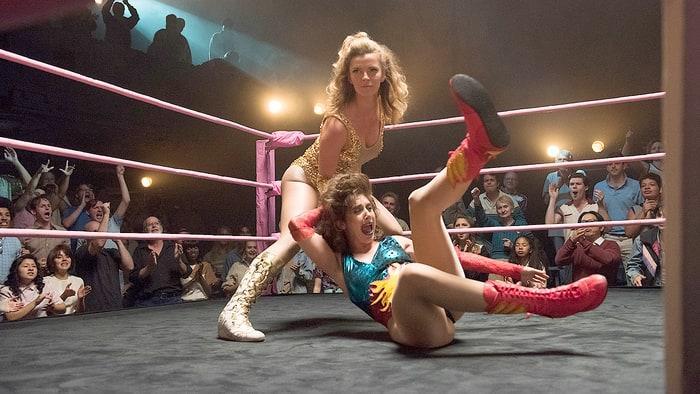 All 10 episodes streaming from: Friday 23rd  June 2017
Created by: Liz Flahive and Carly Mensch
Executive producers: Liz Flahive, Carly Mensch, Jenji Kohan and Tara Herrmann
---
GIRL-ON-GIRL
                "Is this real?"

                "Who the fuck cares?"
Community cutie Alison Brie headlines this fictionalised account of the 1985 formation of the syndicated female wrestling promotion, the Gorgeous Ladies of Wrestling (or G.L.O.W. for short), which was highly publicised as being from the creator of Orange is the New Black. While Jenji Kohan does have an executive producer credit, GLOW's creator duo – Liz Flahive and Carly Mensch – also have previous industry experience as writers of high profile US shows such as Weeds, Homeland and Nurse Jackie.
Ruth Wilder (How To Be Single's Brie) is an actress with "unconventional" looks (WTF are they talking about??!) who struggles to even get a call-back for two-line secretary bit-parts. Out of options, she blindly attends an "experimental" audition and finds herself part of an ensemble of diverse and eccentric women being trained to pull off "tit grabs" and cunt punches" for seedy, unflattering director Sam Sylvia (Marc Mike and Dave Need Wedding Dates Maron).
Porn-'tached B-movie supremo Sam and coke-loving, party-mad producer Sebastian "Bash" Howard (Chris Lowell) hope their cast of female wrestlers will be as big as Hulk Hogan and the WWF, but in casting Ruth's soap star best friend (Betty Gilpin) in a heroic, leading role, have Sam and Bash made a call which could break their fledgling endeavour before it even gets to air?
Short, snappy and with gallons of 'tude, GLOW's first season of ten half hour(-ish) episodes make for fun, retro viewing which hit all the right emotional beats (comedy, drama, tension, heartache). The pilot, especially, is a revelation; zipping from laugh-out-loud hilarious to heartbreaking in the space of a single scene. And yet, by the time I reached episode 8 ("Maybe It's All The Disco") I started to question where the series was heading.
While the formation, training, role-defining and rehearsing of the wrestling show is the glue which holds the series together (from auditions to first taping), it often takes a backseat to the character drama. And with such a large ensemble cast to service, some minor dramas can feel blown out of all proportion (such as a reclusive member not wanting to celebrate her birthday), while significant issues (such as Ruth's abortion) can feel hideously underserviced.
After the pilot I was ready to lavish GLOW with five stars – I legitimately snorted with laughter at Ruth's in-ring imitation of Ric Flair to an astounded gaggle of auditionees – but as the series progressed the purpose felt muddied and the spirit stuttered. While I have no real adoration for wrestling, my love for the neon decade and unhealthy infatuation with Alison Brie meant that I kept watching in the hope that come episode ten the story would surmount to some spectacular crescendo, but it didn't.
I don't want to sound overtly negative because GLOW never completely tapped out. While my expectations lowered as the story arc became lost in a sea of accentuated character quirks, I never considered not finishing the season, I just feel like it was more than happy to meander and plateau rather than grasp the opportunity to be something truly iconic. Here's hoping that if Netflix order a second run of the comedy-drama that it can reach its full lustre.
CR@B's Claw Score: