Dave – 9:40pm – Thursday 12th October 2017
Available to stream from UKTV Play service NOW
Created and written by: Dan Gaster, Will Ing and Paul Powell
Directed by: Dave Lambert
---
PIE AND HAMMER
Expanded from last year's water-testing micro-run (click the following links for my 1.1, 1.2 and 1.3 reviews), digital channel Dave's original fantasy sitcom makes a welcome return next week, once again nestled in a post-Red Dwarf XII Thursday night slot. "The Trial" follows directly on from "Mr. Wuffles"'s cliffhanger ending, in which modern day office temp-out-of-water Brian Weaver (James The Inbetweeners Buckley) has inadvertently pissed off a legion of shell-backed Snail people by kicking their ambassador, which he had mistaken for a football.
It's good to be back in medieval Munty, a parallel universe pulled straight out of fantasy lore, but as the title of this returning episodes implies, series two does not jump straight into top gear. Indeed, instead of upping the ante and seeing the ensuing Flint war, we instead get a much-smaller, character re-introducing episode about the ensuing "diplomatic incident." The snail race don't even make a return appearance! Instead, luckless Brian – still in his now slightly sweaty work uniform – is thrown in a cell to await sentencing by Nina Wadia's stickler judge.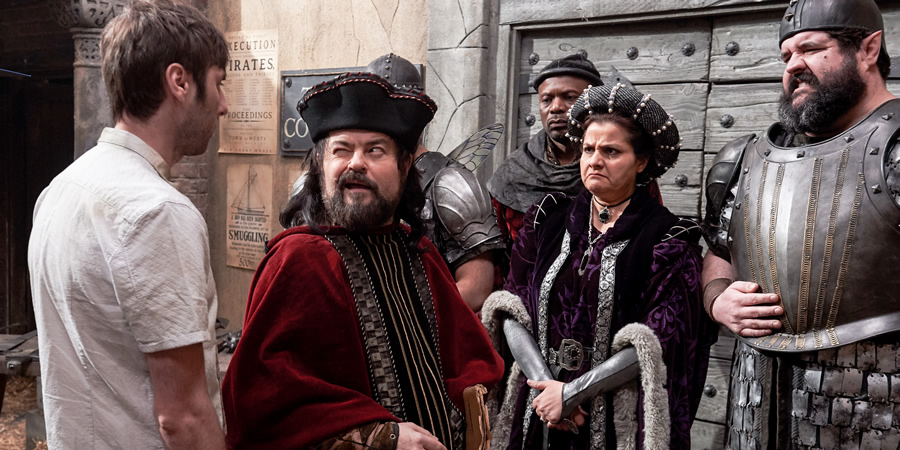 Zapped!'s trio of writers re-establish the core supporting cast of Brian's motley mates by having each of them attempt to be something they are not this week: Shite soothsayer Barbara (Sharon Rooney) starts a less-than-promising new career as a blacksmith; batty shopkeep-cum-magician Howell (Paul Kaye) starts a money-making "cat retrieval" business; barman Herman (Louis Emerick) tries to spruce up his menu with, err, rotten fish; while crafty man-with-a-plan Steg (Kenneth Collard) hoodwinks his way to becoming Brian's "avdocate" [sic] for purely greedy reasons.
But while the regulars all get their fair share of screen time (including a rather flat running joke where Herman doesn't follow through on telling a tale he teases), it is "The Trial"'s guest characters who bring some quirky life to this restrictive scenario. Rufus Hound steals every scene he is in as batty inmate Kevnar who believes his (invisible) family are living with him in the "other rooms" of the jail ("… she's in the bath!").
Writers Ing, Powell and Gaster have fashioned a tight plot (all loose threads are neatly tied up come the credits) and spunky dialogue bred from this surreal environ, but ultimately "The Trial" too-often feels too claustrophobic for its own good. With fairy guards, ork-like OAPs and a runaway cat all contributing to Brian's eventual release (sorry, spoilers!), Zapped! shows promise that it can 'go big' when the story calls for it. Hopefully the best is yet to come in the subsequent five episodes in series two, after this safe-but-sturdy start.
CR@B's Claw Score: