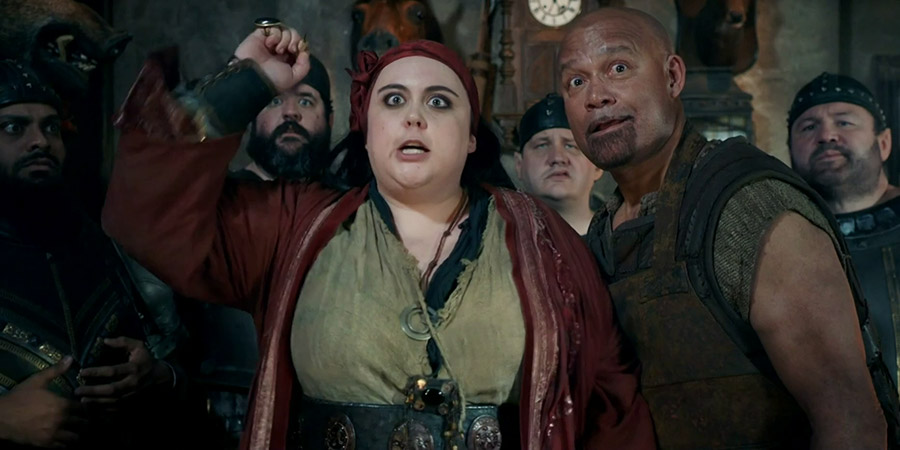 Dave – 9:40pm – Thursday 19th October 2017
Available to stream NOW on UKTV Play
Created and written by: Dan Gaster, Will Ing, Paul Powell
Directed by: Dave Lambert
---
PROTECTION AND PARENTHOOD
After last week's reserved return gave us an opportunity to reacquaint ourselves with Munty's main players (2.1 – "The Trial" reviewed HERE), Zapped bursts to life in series two's sophomore instalment, "Magic Darts," which sees stranded modern-day office temp Brian Weaver (James Buckley) take a crash course in conjuring from dubious "licenced mage" Howell (Paul Kaye), in order to keep himself from further harm in this medieval fantasy land.
"I'll teach you how to turn water… into shoes!"
What the three-strong writing team behind this Babycow-produced sitcom have nailed is naturally and effortlessly balancing story beats and plot points between the core cast, so while Brian is being hoodwinked into believing he can make an egg levitate, Steg (Ken Collard) experiences parenthood in the space of one morning when a newly hatched lizard baby from a giant saurus egg imprints upon him as its 'mother,' only for it to mature very quickly, shedding its skin and leaving the nest before the end of a montage.
The Jug and Other Jug gets a taste of twenty first century pub sports when Herman (Louis Emerick) is encouraged to install a darts board for Brian "The Dream" Weaver, only for the city's unhinged fairy guards (Rickey Grover et al) to get rather obsessed with the social pastime. Can Barbara's (Sharon Rooney) natural talent on the oche save the day when Herman makes a bet with the winged brutes for his watering hole?
Whoever licences the music for Zapped also deserves a round of applause as this week's music picks (including the anthemic "I've Got The Power") really add to the timbre of the episode for the second week running. It's a small but important element which, had library music been used instead, would have lacked the punch which recognisable tunes provide. The same is also true of the CG-enhanced establishing shots and the market place set, which make Munty feel bigger and more lived in than ever before. Bravo to the set designers.
It's interesting that despite confounding a number of genre hallmarks into its concept ("Eleventy-four" sounds like it's straight out of Tolkien, while Howell and Brian's body swap is Red Dwarf through-and-through), Zapped feels like it is settling into its own identity. Reoccurring trademarks are beginning to embed themselves (Brian claiming responsibility for modern day pop culture; Herman's pub stories being cut off; "Krunt!") and even if I wasn't outright laughing my head off for the whole 30 minutes, I was enjoying myself immensely in this charming, kooky universe.
CR@B's Claw Score: