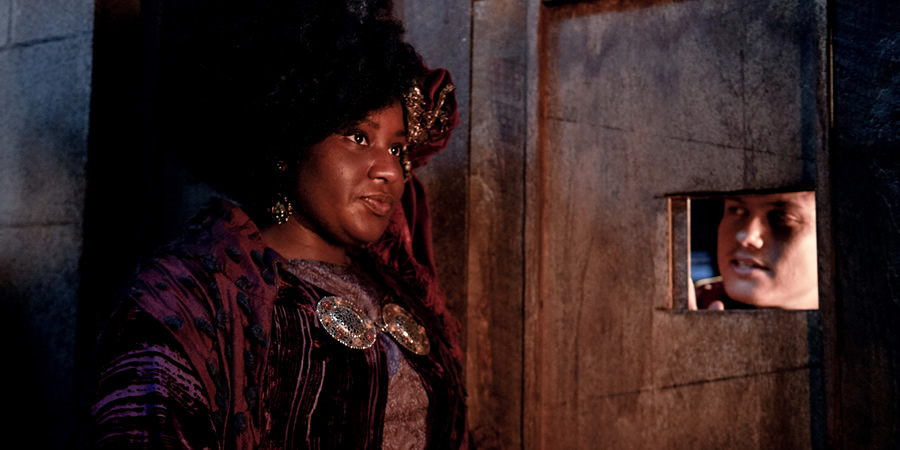 Dave – 9:40pm – Thursday 26th October 2017
Available NOW to stream on UKTV Play
Created and written by: Dan Gaster, Will Ing, Paul Powell
Directed by: Dave Lambert
---
RICH TASTES
Halfway through this second series and stranded twenty-first century everyman Brian Weaver (James Charlie Countryman Buckley) is becoming bored with his limited circle of less-than-exceptional companions and his lacklustre new existence in the fantastical medieval province. Even news of Herman's (Louis Emerick) upcoming anniversary party celebrating 15 years of "proper old school taverny" at The Jug and Other Jug can't convince Brian to stay away from Munty's newly-opened trendy bar.
While Brian initially loves hobnobbing with the swathe, exclusive clientele (well, it gives him an opportunity to lie to another group of people about how he competed on Strictly Come Dancing and won Wimbledon… "again"), it soon becomes clear that his hip new friends (Jonathan Pointing, Katia Kvinge) aren't all that they seem…
Meanwhile, 'soothsayer' Barbara (Sharon Rooney) goes to great lengths to rustle up her life savings at the drop of a hat to invest in a "business opportunity" her successful old school friend Rina (Susan Wokoma) promises will exponentially grow her pot. Barbara is unaware, however, that Rina has just hoodwinked Howell (Paul Kaye) by selling him a fake shield stone; a shield stone he has just sold on to the very dangerous Slasher Morgan (big name reoccurring cast member Sally Phillips).
"I'm unharmabubble! Not easy to say when you're off your nut!"
While the dead air between Brian and his usual crowd ("… You alright?") is chucklesome in its universal relatability, it is Howell who owns this episode, whether over-talking in his bid to pull the wool over the formidable Slasher's eyes, or gabbling like a hyperactive toddler after overdosing on dragon's tooth. The reveal that the "tomato juice" drinking in-crowd are blood suckers is far too predictable, but the episode does admirably in tying the clandestine Desrati's plot into money-drainer Rina's – and in the end they all get their just desserts.
CR@B's Claw Score: