12A – 130mins – 2017 – 3D
---
GLADIA-THOR, READY? REVENGERS, READY?
In recent years, Disney and Marvel have become notorious for the short leashes on which they keep their directors. Even if your name is Edgar Baby Driver Wright, if your Ant Man passion project doesn't toe the corporate line, you're out. Likewise, Lord and Miller were recently ousted from the Han Solo Star Wars spin-off because their take on the Kasdan's script was too irreverent. The body double twist which capped off Iron Man 3 was derided for making a mockery of Marvel lore, while Joss Whedon has openly held his hands up to the difficult production on 2015's Age of Ultron, a sequel which too often went for a gag.
So it is somewhat surprising that MCU president and producer Kevin Feige was only too happy with idiosyncratic helmer Taika Waititi's overtly comedic take on judgement day for the buffest Avenger; the fall of Asgard. To great success, Marvel have typified the superhero subgenre in recent years by always injecting a modicum of mirth into their fantastical action epics, but Ragnarok is so stuffed-to-the-gills with tongue-in-cheek silliness that it often feels like a spoof!
From Thor's (Chris Ghostbusters Hemsworth) self-deprecating opening narration to the camera, through the introduction of Jeff Independence Day: Resurgence Goldblum as the flamboyant-yet-blasé, pleasure-seeking Grandmaster of alien world Sakaar, to Bruce Banner's (Mark Ruffalo) painfully awkward landing in the climactic fight against deadly deity Hela (Cate Carol Blanchett) and her giant hell hound, the film tries to match giggles with grandeur.
Independent of one another, all the elements do work. Blanchett is suitably ravishing yet dripping with macabre ruthlessness, destroying the God of Thunder's might hammer within seconds of being released from her intergalactic prison, while tricksy brother Loki (Tom Kong: Skull Island Hiddleston) still lingers in that untrusting grey area between hero helper and despotic villain. But a superfluity of gags – and characters unsubtly played for laughs – dissipate the doom and take you out of the already far-fetched action.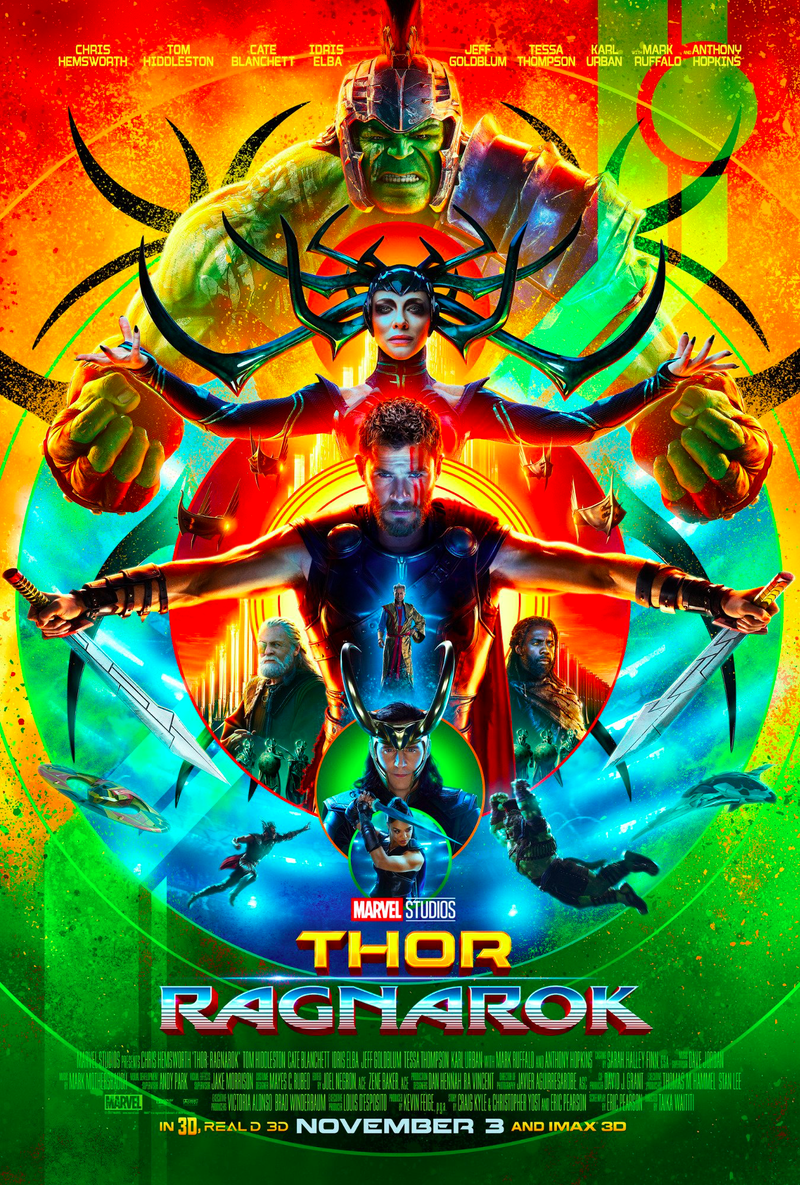 Hunt for the Wilderpeople director Waititi has certainly put his own stamp on Thor's threequel, even playing a Motion-captured part himself and inviting fellow New Zealanders and frequent collaborators Rachel House and Sam Neill along for the joyride. Ragnarok is undeniably a rollicking, audacious blast of a blockbuster, but it doesn't feel like a legitimate Marvel movie, more like Guardians turned up to 11, or a Saturday Night Live sketch where everyone is aping motor mouth Tony Stark, extended to feature length.
CR@B's Claw Score: