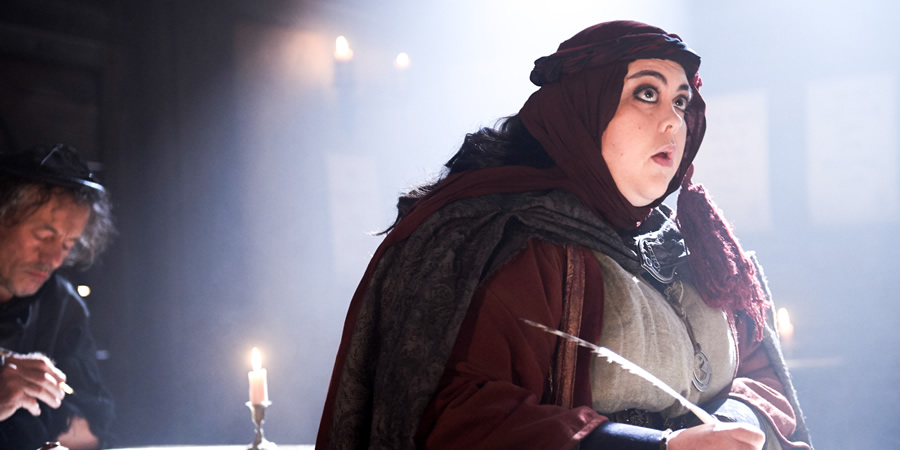 Dave – 9:40pm – Thursday 2nd November 2017
Available to stream NOW on UKTV Play
Created and written by: Dan Gaster, Will Ing and Paul Powell
Directed by: Dave Lambert
---
PEARS BE WITH YOU
"May your pear juice be sweet."
When two pear watch guards (Simon Day and Javone "Empty Orchestra" Prince) are inexplicably fired the day before Munty's highly anticipated Pear Fair, a baffled Brian (James Buckley) jumps at the opportunity to apply for the job of guarding the sacred albino pears in the walled orchard. With his wages, he plans to journey to the City of a Thousand Towers in time for the Super Solstice, hoping to take advantage of the thin wall between worlds and return to his rightful dimension.
Joined by Steg (Ken Collard), Brian and his meandering mate successfully get the gig and simply must make sure the glowing white pears continue to hang healthy, for one night. But with salty snacks, brandy and blankets left out for them, they struggle to keep their head on the task and away from the pillows. Awakening the next morning with hangovers and full bladders, they find the pears blackened and lying on the grass. And as everyone in Munty knows: "If the pear tree dies, Munty lies… in ruin."
Meanwhile, Howell (Paul Kaye) is enforced by Slasher Morgan (Sally Phillips) to concoct an undetectable memory spell to help her win a game of cards against reigning champion Kevlar (Rufus Hound, back from "The Trial" and now free from prison – but not his invisible family); a spell soothsayer Barbara (Sharon Rooney) hopes she can also use in order to ace her seer guild entrance exam.
Once again, the Zapped writing team successfully tie all three disparate plot threads together, with Barbara's spell-enhanced retention ousting the real terrorist who poisoned the albino pear tree, just as the implicated Brian and Steg are about to be imprisoned for their incompetence. It's concise and it does make story sense, but it also feels like a lazy quick fix which comes out of nowhere. On the plus side, I am impressed with how this series is growing the roles of previous guest stars to create a real sense of a vibrant community and continues to build an overall story arc for Brian, who still wants to return to twenty-first century Britain, even if he does get distracted from time to time.
CR@B's Claw Score: