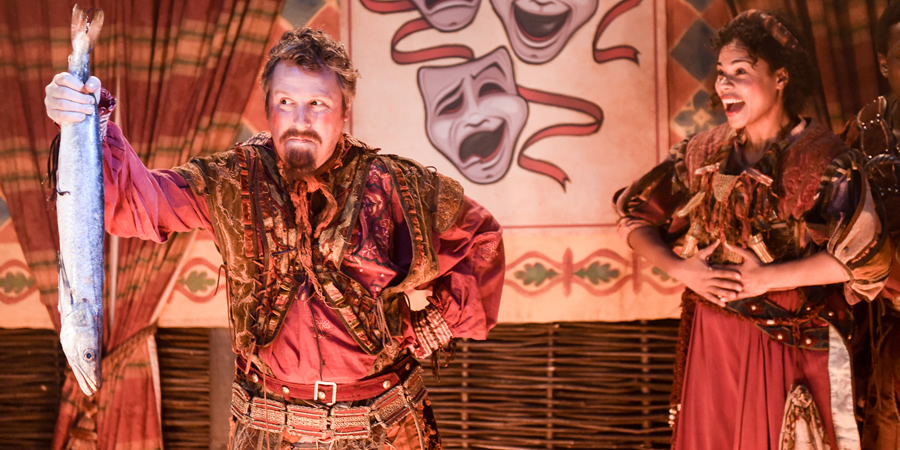 Dave – 9:40pm – Thursday 9th November 2017
Available to stream NOW on UKTV Play
Created and written by: Dan Gaster, Will Ing and Paul Powell
Directed by: Dave Lambert
---
THE THROCK'S THE THING
"Welcome to the most important job in showbusiness!"
A single f-bomb earns Zapped its first '15' rating with what is – in my humble opinion – the krunting best of its eight aired to date. Alan Partridge's Mid-Morning Matters co-host, Tim Key, guest stars as the lead actor of travelling group The Brevit Players, who Brian (James Buckley) joins as the sandwich-board carrier and general dogsbody, hoping to follow the theatrical troupe all the way to the City of a Thousand Towers – and his ticket home.
Meanwhile, bar prop Steg (Ken Collard), who up to this point has shuffled through series two with little purpose, regains a modicum of his series one verve when he agrees to help some disgruntled and overworked orcs who are being exploited by the fearsome Protector (Sylvester Doctor Who: The Movie McCoy in a big-name cameo) on his grand-scale building project in the centre of town.
When a throck (think a "homicidal turkey") is let loose in Munty, brutish fairy guard Chestnut's (Tony Way) wing is damaged. After Howell's (Paul Kaye) attempt to fix it with magic backfires, Barbara (Sharon Rooney) takes the temporarily-flightless fairy under her… wing, and an unlikely admiration blossoms – but could it be love?!
While the appearance of a former Time Lord and wizard of Middle Earth is "Showtime"'s most news-worthy selling point, it is its homaging of pop culture which makes it such a chucklesome delight. In a story beat heavily reminiscent of Blackadder II's dictionary farce ("Ink & Incapability"), Brian is forced to rewrite the Brevit Player's latest script in one night, turning "The Saga of Olaf the Bendy" into a roll-call of present day rip-offs, with everything from Star Wars to Oasis, via Forrest Gump and Only Fools & Horses, being plagiarised!
Only Fools is doubly hilarious for those who are aware that James Buckley played a young Del Boy in noughties prequel series Rock & Chips, but "Showtime"'s script is equally clever and meta when the man who plays Alpha Papa's "Sidekick Simon" seems to have inherited his former DJ's fungal foot ailment. Meanwhile, the bomb in the theatre conclusion is another doff of the cap to Blackadder's third incarnation, this time III.4 – "Sense & Senility". Most cunning comedy!
CR@B's Claw Score: