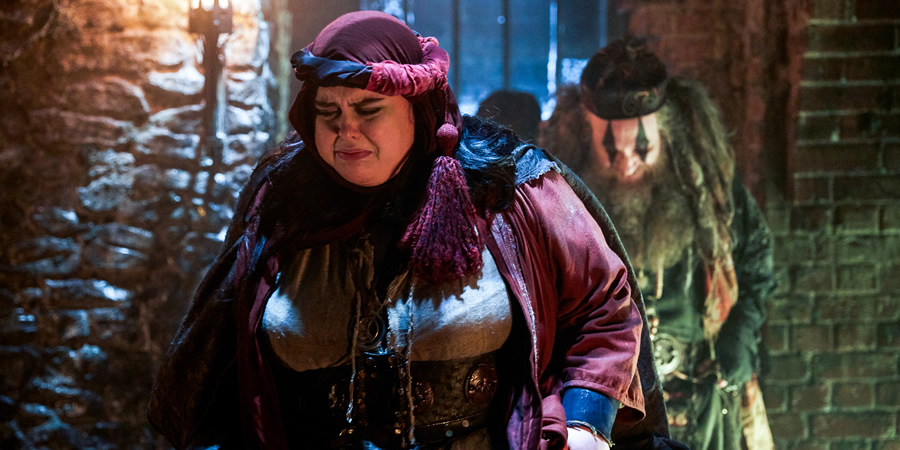 Dave – 9:40pm – Thursday 16th November 2017
Available to stream NOW on UKTV Play
Created and written by: Dan Gaster, Will Ing and Paul Powell
Directed by: Dave Lambert
---
GET HOME OR DIE TRYING
"Who wants to spend the rest of their life in Munty?!"
The date of the super-solstice is drawing near and Brian Weaver (James Buckley) is finally going to get the opportunity to be magicked back to 21st century Britain – and a change of clothes – provided liquor-loving conjuror Howell (Paul Kaye) can stay off the Rhubarb Seizures long enough to recant the spell! With Barbara's (Sharon Rooney) new date (Ciaran Dowd) guaranteeing the gang easy access to the Henge, it seems like nothing will stand in the way of Brian's return journey – except maybe for the two bounty hunters who are hot on the heels of the traveller from another world…
"Everything gone pear-shaped?"
With both of Dave's big original sitcom commissions coming to the end of their current runs this Thursday, it is fortuitous that both seem to have saved their best for last! While Zapped is too new to offer the nostalgic kicks and fan-service of Red Dwarf XII's "Skipper" (reviewed HERE), "The Henge" nonetheless possesses a real end-of-term buoyancy, with an array of witty callbacks to previous episodes (Munty is now known as the "FORMER home of the world-famous albino pear tree" following the events of 2.4 – "Pear Fair"), returning characters (Sylvester McCoy makes his second appearance as the crotchety Protector) and plot resolutions (Jing Lusi and Arnab Chanda have been hunting Brian since they intercepted his letter from prison in 2.1 – "The Trial").
"Drunk… on life!"
In a cracking episode of highs, I will single out three as my favourites: firstly, a 'reformed' Howell's hippy-esque reinvention ("a lifestyle choice") is a hilarious riff on Middle Earth's reborn Gandalf the White; secondly, Barbara's dead-pan connection between Brian referring to them all as a team with a fat member ("That sounds like that band you were in: Steps!") had me howling with laughter; finally, as the barrier between worlds thins, Herman (Louis Emmerick) finds himself holding a stapler, while a dagger appears in Brian's old office – as does Howell, when it transpires they have each stepped on the wrong triangle to read the incantation ("typical Colin the contrary!" Steg bemoans the Henge's flippant designer)!
It is great to see Zapped toy with the possibilities of Brian getting home, while simultaneously opening up the show to future series. Now that Howell is stuck fixing a photocopier in another dimension and Brian is imprisoned as a circus curio ("Do you like zoos?"). I have thoroughly enjoyed this second, expanded series, but with such a fine finale better last week's previous favourite episode and ending on such an intriguing cliffhanger, my appetite is well and truly whetted for a third run – fingers crossed the pears will be in our favour!
CR@B's Claw Score: