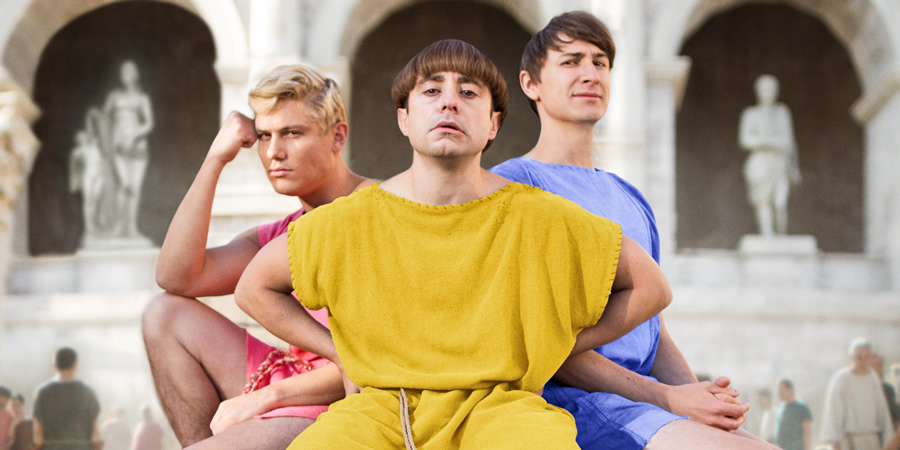 ITV2 – Monday 9th April 2018 – 10pm
Currently available to watch NOW on the ITV Hub
Created and written by: Sam Leifer and Tom Basden
Directed by: Sam Leifer
---
CRUSH JUSTICE
"Plebs die sometimes, boo-bloody-hoo!"
It's always a pity when a popular show loses one of its leads, and with Joel Fry off chasing ghosts and missing girls in supernatural BBC drama Requiem, I feared a Plebs without cocksure optimist and vital ingredient Stylax Eurisces would be like Red Dwarf without Arnold J. Rimmer – and we all know how successful that wasn't in series VII!
Thankfully, with creators and writing team Sam Leifer and Tom Basden still sandalled-up and game for comedy combat in the arena, this fourth series of the hilariously anachronistic ancient Rome-set sitcom retains the same colourful, modern verve and high quality which made the first three series such bit hits, even if there are big changes to the status quo this time around.
"The Accident" does a superb job of easing the audience into this potentially jarring conversion with a respectful send-off for the most spunky pleb, plus returning characters aplenty (Doon Mackichan, Karl Theobald, Tom Davis). Shit slave Grumio (Ryan Sampson) spends this series opener "going to seed" while straight man and Grumio's lax owner Marcus (Tom Rosenthal) attempts to get justice for Stylax's untimely end from the crooked construction site owner (Robert Lindsay) responsible for dropping a ten-tonne slab on his best mate's 'fro.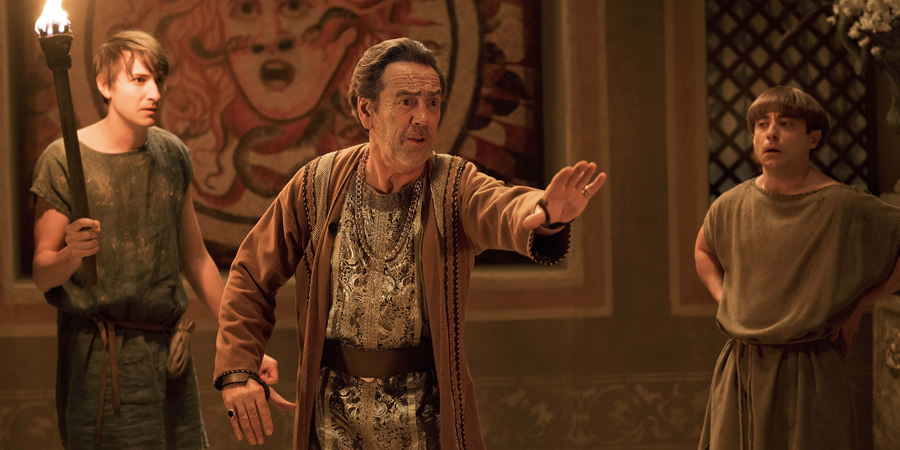 Waterboy man Aurelius (Basden) displays some worrying similarities to Tim Key's psychopath Mushki from series two's "The New Slave" in his desperate bid to impress enough to become Marcus and Grumio's new roomie, but despite initial – and thoroughly validated – reservations, Marcus eventually plumps to welcome vain builder and "murdering twat" Jason (Jonathan Pointing) into the fold.
Newly jobless and in lieu of monetary compensation for Stylax's death, the new lead trio find themselves gifted a rather smelly pay off in the form of an abandoned toilet block – but they have grand plans for this literal shit hole. With a slick plot and contemporary (often filthy) humour, on the strength of "The Accident" series four looks set to be as laugh-out-loud hilarious as ever, even if I can't see shallow Jason making much of a mark.
That said, having already waved goodbye to Marcus's next door neighbour and love interest (plus her interfering slave) from not only series one and two, but also series three newcomer Delphine, too, the show continues to prove itself remarkably resilient to cast shake ups, and as long as it remains this ballsy and funny, I am happy to continue saying "salve" to the Plebs for many more series to come!
CR@B's Claw Score: