BBC 1 – 28th June 2016 – 9pm
Written by: Ashley Pharoah
Directed by: Alice Troughton
---
SHAKEN TO THE CAW
The Beeb boldly takes a leaf out of Netflix's binge-watching (e-)book with the box set debut of its latest six part drama series on iPlayer, ahead of episode one's terrestrial premiere on the flagship terrestrial channel tonight.
With a foot still firmly rooted in the fantasy field, Colin "Merlin" Morgan (most recently seen briefly in The Huntsman sequel) leads the cast as forward thinking psychologist Nathan Appleby in this Somerset-set Victorian period drama which explores the tension between life's extremes: the past and the future, tradition and revolution, rural and urban, adolescence and adulthood, the occult and science, ignorance and knowledge, and – as the title makes abundantly clear – the living and the dead.
"An exciting but very, very awkward phase…"
In this opening chapter, London-living Nathan and his caring second wife, Charlotte (Charlotte Spencer), inherit Nathan's family farm, Shepzoy House, and move back to the country after his mother's passing during the Summer solstice celebrations. How will the rigid and resistant household – led by farmhand John (Steve Aaaaaaaah! Oram) – react to this new beginning, with the young generation of Appleby's determined to modernise the operation and turn the farm's fortunes around?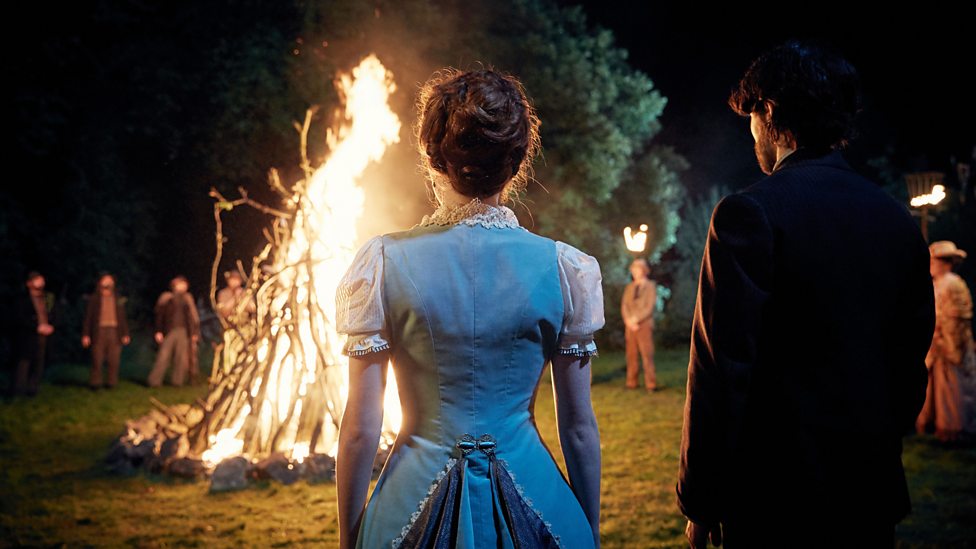 The series' strong theme is so deeply ingrained as to be almost overwhelming, especially when Nathan's pioneering expertise is called upon to deal with the vicar's child, Harriet Denning (Tallulah Haddon), who is morphing from a "dream daughter" into a remote and troubled young woman with a disturbing tendency to talk in a gruff manly voice. Is her mind being warped by the "dangerous" books she is reading; is she frightened by her own sexuality into creating a splintered alter ego; or is she possessed by the spirit of dead down and out, Abel North (David Sterne)?
"Fresh fruit waiting to be plucked…"
With the locale and musical score provided a folksy, Wicker Man-esque atmosphere (further aided by flickering candle-light and shadows highlighting a sense of otherness), The Living and the Dead is more successful in conjuring a slow, macabre air of tension and dread than it is at shocking set-pieces. Tallulah Haddon's competence at creepy impressions is chillingly unnerving – particularly when she starts needling at Nathan's tragic past – while John's ominous fate is filmed in too delicate a manner to leave an impact.
I was fully expecting this scene-setting first hour to do little more than establish the characters and arching themes, so was mighty surprised when Nathan resolves Harriet's case. Clearly future instalments will see the psychologist tackle other instances of supernatural manifestation, while his haunting past continues to plague his present state of mind. If episode two can continue just as expertly in its tension-ramping storytelling, then The Living and the Dead will continue to mesmerise – but it could perhaps do with taking its foot off the thematic throttle a bit; subtly over transparency will see this spooky series soar.
CR@B's Claw Score: