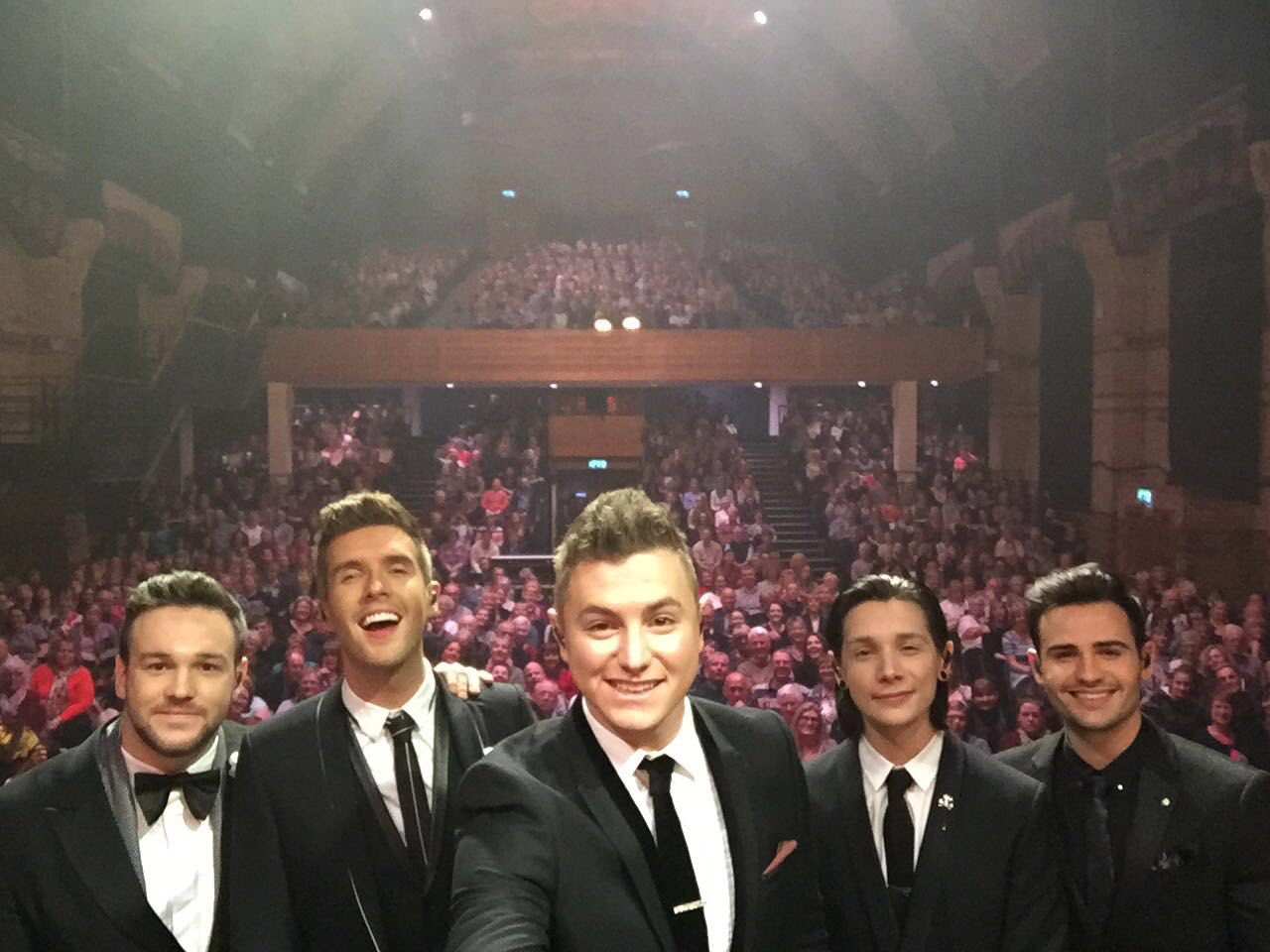 Cambridge Corn Exchange – 17th March 2016 – 7.45pm
Official Twitter – Tickets available HERE
---
PHANTASTIC OF THE POPERA
Two years and two hit albums on from being crowned Britain's Got Talent champions, the world's first self-proclaimed "Musical Theatre Super Group" are back on the road in support of their sophomore LP, last summer's #2 reaching Act Two, and their stop at Cambridge's Corn Exchange venue last night marked the unofficial start of the return leg, falling as it did halfway through their 6 week, 27 date nationwide endeavour.
Following a soulful support set from one man and his piano, AJ Brown (who blew me away and will get a blog post all his own in the near future), Collabro-teers Michael, Richard, Jamie, Matt and Thomas were platform-lifted onto the impressive stage (replete with circular stairway to house their own live orchestra) for a technically flawless and uplifting two act show, which kicked off with the rousing "Circle of Life" from The Lion King.
The set list successfully combined all their biggest West End and Broadway renditions ("Stars" and "I Dreamed A Dream" from Les Mis, "Over the Rainbow" from the Wizard of Oz, "Memory" from Cats) as well as a healthy smattering of well known songs from other genres (Boyzone's "No Matter What", Kodaline's "All I Want" and some swinging jazz hits) given a unique Collabro makeover. As the crossover kings remarked cheekily before a potentially "cheesy" number:
"Collabro can sing ANYTHING!"
This really was a top class variety performance, with some stellar lighting choices complementing the audio masterclass with visual pizzazz. If I was to be completely honest, as much as I recognised and admired the five piece's harmonious vocal acumen in the first half, it wasn't until their return to Les Mis  with "Bring Him Home" and a strapping Phantom of the Opera medley (where they were joined by assured soprano special guest Catriona Murray) in the second act where the full majesty of their powerful voices truly grabbed and moved me like they did on BGT in 2014.
The group were in high spirits in between numbers (even if it did occasionally feel over-rehearsed), breaking from the formality of their smart suits and glitzy ballroom-esque decor to lend validity to song choices (such as one member blubbing watching The Fault in Our Stars), recite humorous behind the scenes anecdotes and banter amongst themselves – at one point even using a selfie stick to snap the whole venue! It was nice to see a more human aspect behind their knockout lungs, and this aided in bringing some humour to an already highly entertaining show.
Bravo, Collabro!
CR@B Verdict: 
---
Photo copyright Collabro, 2016. No infringment intended. https://pbs.twimg.com/media/Cd17RwyWwAAhs9d.jpg