U – 69mins – 1988
---
A LESSON IN DINO-VERSITY
"Some things you see with your eyes, others with your heart."
After a busy weekend, I was ready to collapse on Sunday evening but aware it was far too early to sleep. Eyes aching and just after something nice and simple, I trusted myself to a scroll through Netflix to see if anything fit the bill…
I watched The Land Before Time – as well as another 80s Don Bluth classic, An American Tail  – repeatedly on VHS as a child, completely unaware it was produced and "presented" by Steven Spielberg and George Lucas. My curiosity over the involvement of such legends, coupled with the chance for some warm reminiscences (not to mention the stubby runtime!) sold me on this cute dinosaur animation as I drifted off to sleep.
For those who haven't had the pleasure, it sees a herd of passive 'long necks' (AKA. Brontosaurs) escaping devastation and migrating towards the Great Valley in search of edible vegetation, only for the herd to be divided by a "clash of the continents" (an earthquake) and attacked by a carnivorous 'sharp tooth' (AKA. T-Rex), leaving youngster Littlefoot (Gabriel Damon) all alone.
"I'll be with you, even if you can't see me."
As the mourning orphan strives to overcome his depression, flee famine and complete his departed mother's (Helen Shaver) quest of hope, he befriends four diverse companions in stubborn 'three horn' Triceratops Cera (Candy Hutson), cute Saurolophus Ducky (Judith Barsi), mute Stegosaurus Spike and plucky Pteranodon Petrie (Will Ryan), who join Littlefoot on his journey.
"At least we wouldn't be alone!"
Mixing The Lion King's inspirational coming of age story with Zootopia's morality and Bambi's touching sentimentality, The Land Before Time is a far deeper and more rounded experience than my memory recalled, successfully managing to be cute, careful, comical and cultured in its short-but-sharpshooting duration.
Through such likeable, defined and relatable characters, the film delivers crucial and pertinent life lessons on mature social issues such as racism ("Flathead" is used as a derogatory term for the long necks), prejudice ("three horns never play with long necks," "Well, why?!") and bonding through the tragedies the great circle of life throws at even the most innocent of individuals.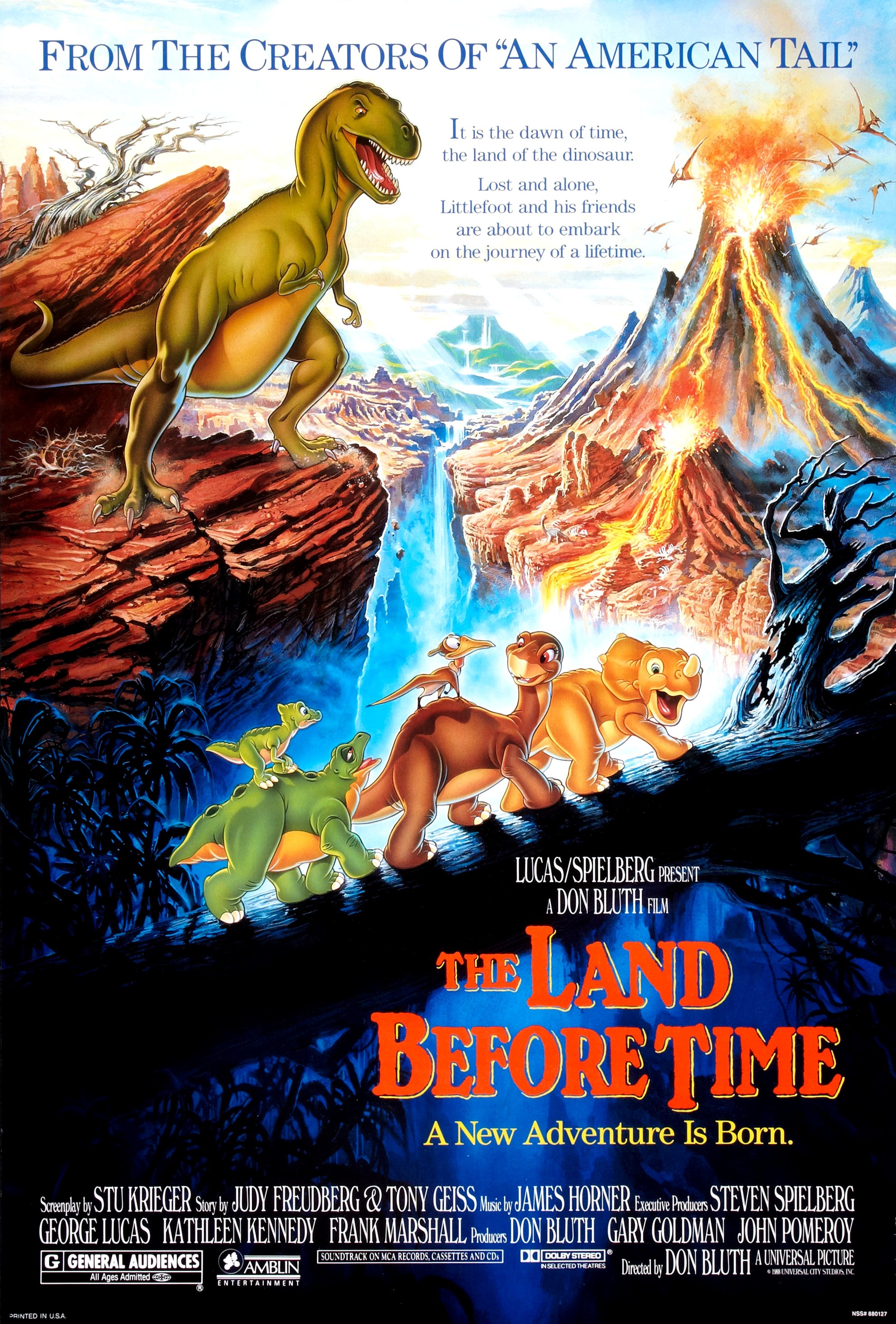 The pace is surprisingly tempered given the film's length (taking away the sumptuous slow underwater opening crawl and the closing credits played to Diana Ross' theme song it weighs in at under an hour), but nearly 20 years on The Land Before Time remains as colourful, engaging and timeless as the dinosaurs themselves. Am I tempted to now binge-watch the gazillion straight-to-video sequels? Yep, yep, yep!
CR@B Verdict: