PG – 103mins – 2015
---
FROM PAGE TO SCREAM
As a child of the 80s schooled through the 90s, R.L. Stine's seemingly endless library of short, sharp supernatural stories for young audiences made for regular bedtime reading. Titles such as Say Cheese And Die! and Stay Out of the Basement were often swapped between myself and my classmates so to maximise our consumption because owning them ALL was surely impossible.
Published by Scholastic, Goosebumps books are the perfect concoction of creepy adventures with a cool, rebel streak but a moral core – not to mention a fittingly ghoulish twist – to encourage even the most book-adverse scamp to pick up a copy. Likewise, the accompanying anthology TV series was must-watch after school viewing on CBBC from 1995-8 which I happily revisited and binged on gluttonously when the boxset received a belated region 2 release a couple of years ago.
For these reasons, when I first heard a big screen adaptation/spin-off/reboot was in the works, my gut reaction was an amalgam of nostalgic delight and cautious pessimism – the latter exacerbated when it was revealed that R. L. Stine was to somehow appear as a main character played by funnyman Jack Black (Bad Bromance), who was reteaming with director Rob Letterman, of the deplorable Gulliver's Travels (2010) 'fame'.
Having now – eventually – seen the Goosebumps motion picture (which was already out on DVD in America before it hit UK cinemas last month), I am relieved to inform you that Letterman and Black have not desecrated another literary source. Phew. The script – by Darren Lemke, from a story by Scott Anderson and Larry Karaszewski (Ed Wood, 1408) – does a fine job of crafting a meta-skirting universe where Stine is a bestselling author who must lock away his manuscripts to stop his monstrous creations from escaping into the real world.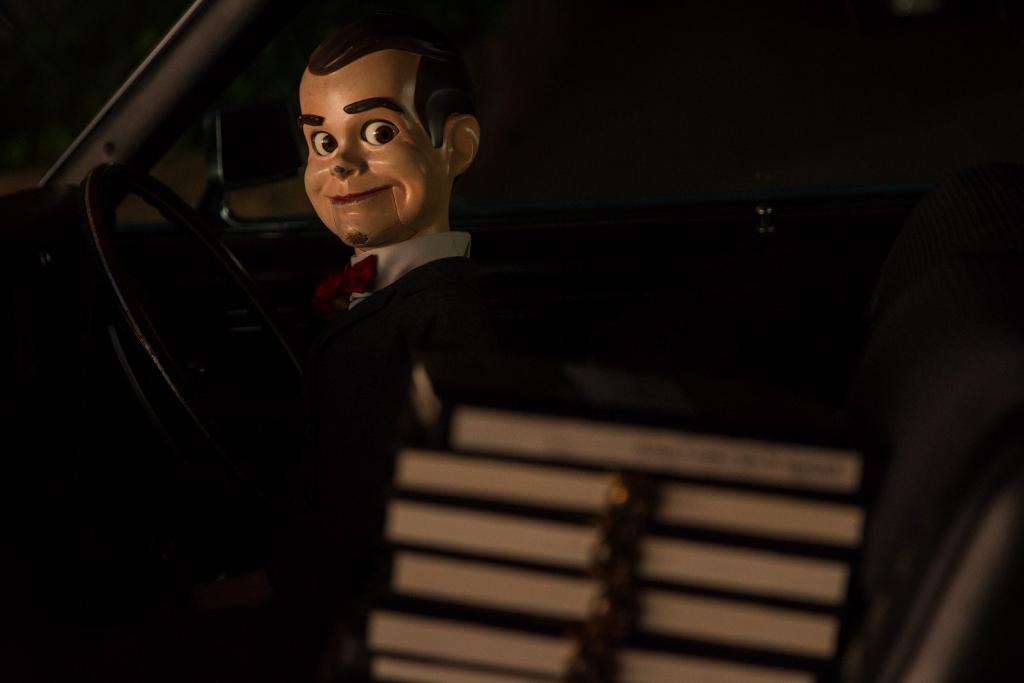 Escape, of course, they do, spilling out a horde of nefarious gnomes, giant insects, crazed clowns, hungry werewolves and marauding zombies onto the quiet streets of Madison, Delaware, with deranged ventriloquist dummy Slappy (voiced by Black) pulling the strings in a plot to ruin his imprisoning "Papa". It's like a "Who's Who and From Which Book?" from Goosebumps' illustrious back catalogue, and while some popular characters are given short shrift, this self-aware ensemble narrative is definitely the best approach to delivering an uproarious and fan-servicing one-off adventure.
Dylan Minnette and Ryan Lee play the teenage every-lads whisked along on this wild ride, with Lee's dumbfounded expression and verbal diarrhoea regularly infuriating Black's cantankerous and reclusive writer, while Minnette has his sight set on wooing Stine's home schooled daughter, Hannah (Odeya Rush) – but is there more to her than meets the eye…? Well there had to be twist!
Not every joke lands. One particularly awkward and wholly un-kid friendly line has an inexperienced cop wildly misinterpret Stine's 'confession' of being an audiophile, but there's a lot of witty parent-pleasing stuff elsewhere (Stine's rage at Stephen King's success is a highlight), plus the zippy nature of the busy narrative means you don't dwell on the missteps for long before you're distracted by another vivid and impressive set-piece.
Younger children may be genuinely spooked by some of the grislier creature effects. The zombies roaming the graveyard – which the characters jokingly remark they just have to walk through to reach their destination – were certainly lacking any horror-softening humour, but this is otherwise a thoroughly enjoyable family friendly romp profuse in magic, charm and self-aware spirit. Viewer prepare, you're in for a… treat!
CR@B Verdict: