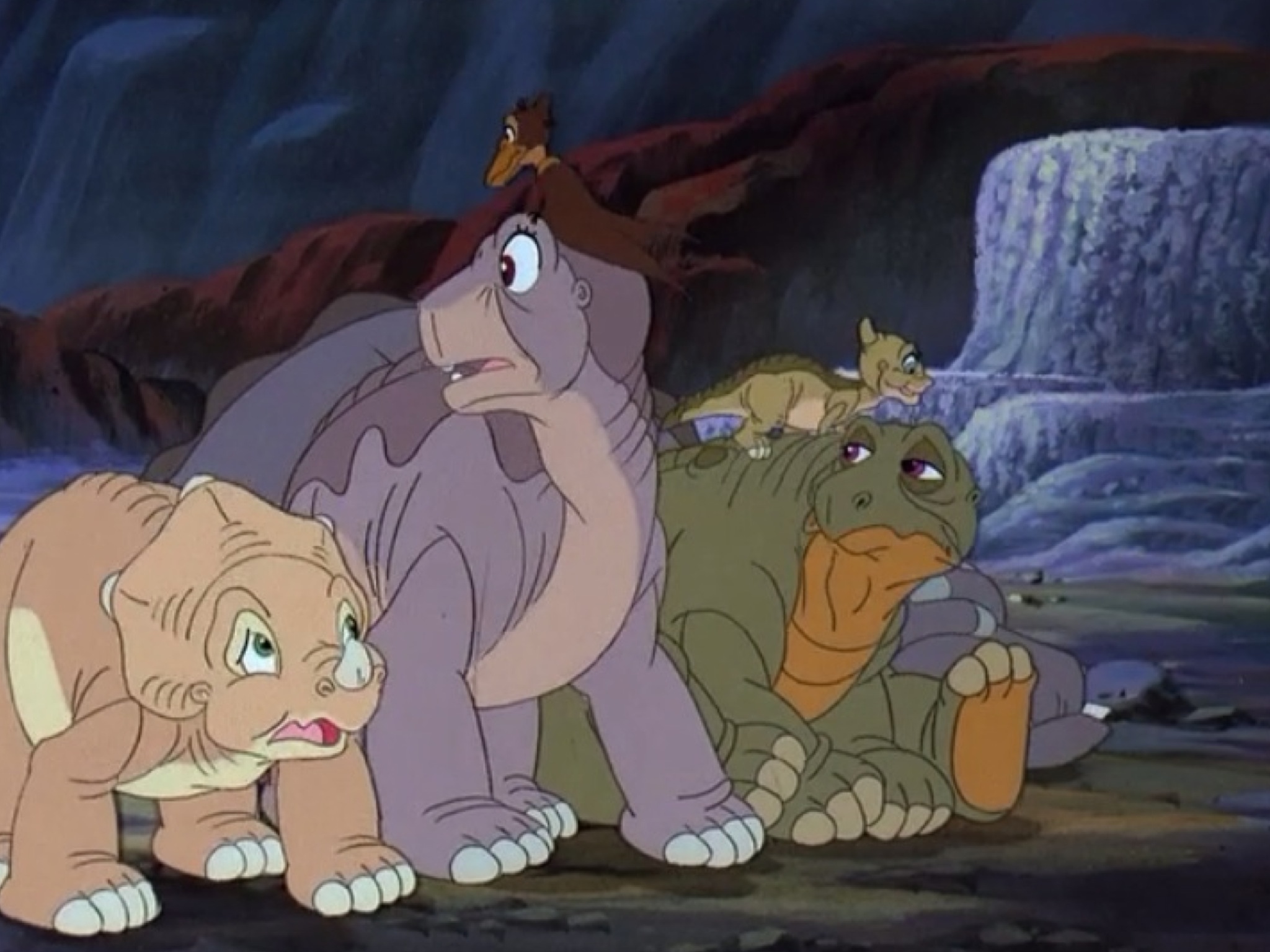 U – 70mins – 1995
---
IRRATIONAL RATIONING
"There is no 'fair' when it comes to survival"
When the Great Valley's watering hole of Thundering Falls begins to run dry, even drinking the morning dew from the tree-stars and rationing the depleted remaining supply cannot stop infighting from causing clashes between the various dino-herds who had learnt to live harmoniously in this once verdant sharp tooth-secluded paradise.
"We don't share with anyone!"
Can virtuous long neck Littlefoot (Scott McAfee) and his band of dynamic friends help find a new water source before the Valley is decimated, or will the increasing threat of fires engulfing the parched land become a dangerous reality?
Having already collaborated just 12 months prior on The Great Valley Adventure, the same creative team – headed by director Roy Allen Smith – really started to find their feet with this second saccharine-sweet sequel to Don Bluth's classic original.
Watching these family-friendly films in such close proximity, the shared moral sentiments – prejudice is bad, teamwork is good – and stringent structural framework – grandiose evolutionary montage, opening narration, status quo disrupted, status quo restored, closing narration – are beginning to become eye-rollingly repetitive, but that doesn't mean I am blind to the fast-growing franchise's merits.
The Time of the Great Giving is actually a far more worthy, confident and cohesive Jurassic jaunt than its patchy predecessor. Michael Tavera's edifying songs are still unsubtly twee, but they are catchier and more palatable this time around, while the animation is noticeably sharper and more adept than the flat and rushed efforts of 1994's Valley.
There's still a predictability to the characterisation and events – a bullying band of antagonists are insipidly goofy ("bigger is better"), while three horn Cera's (Candace Hutson) stubborn father (John Ingle) is so unreasonable you just know he is bound to come unstuck eventually ("sometimes fear makes adults act differently") – but this is still harmless and heart-warming fare which promotes propriety in a way which is not only appealing to hatchlings.
CR@B Verdict: