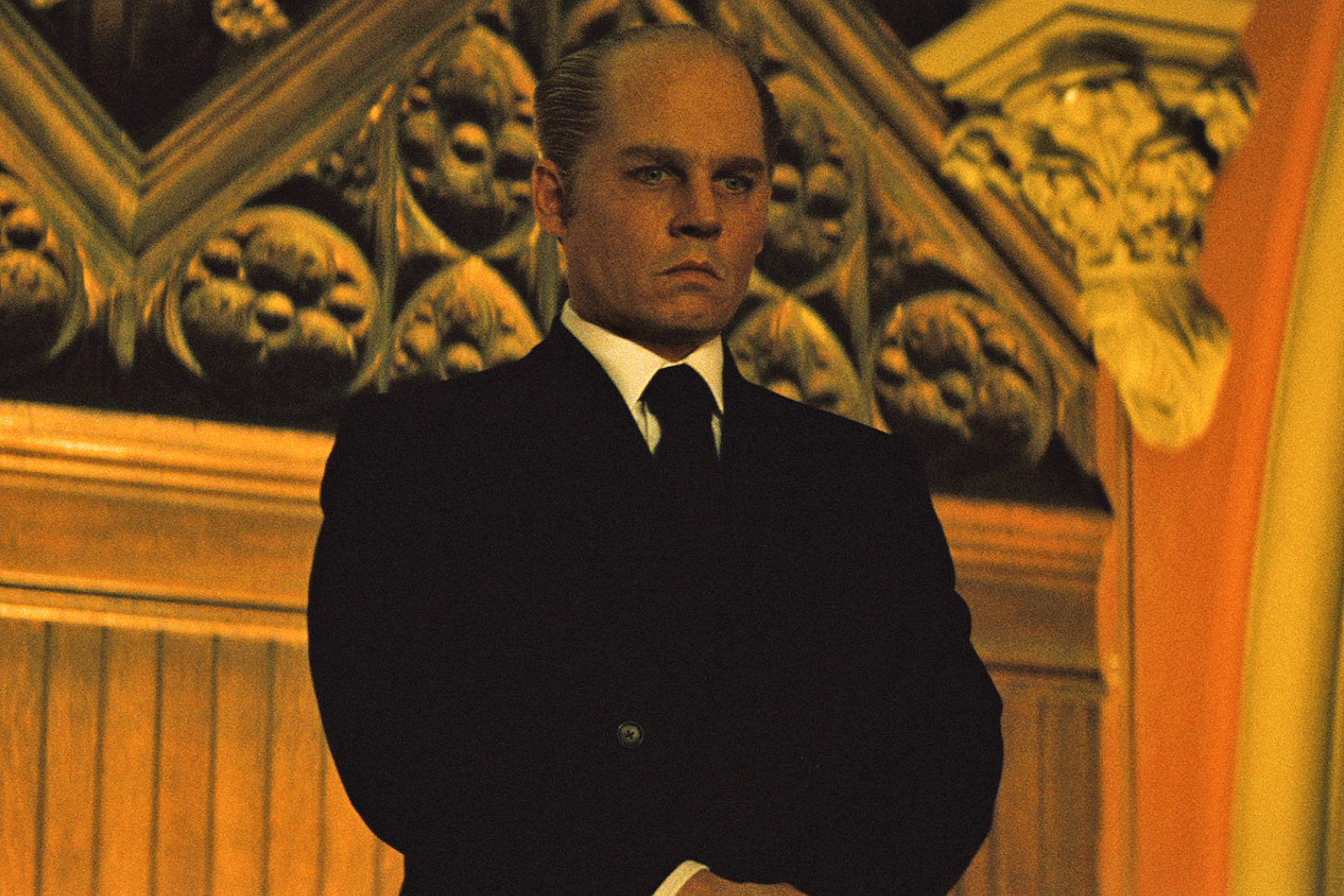 15 – 118mins – 2015
---
UNHOLY ALLIANCE
Based upon the 2001 non-fiction chronicle by former newspaper reporters Dick Lehr and Gerard O'Neill, a stellar ensemble cast including Benedict Cumberbatch, Dakota Johnson and Kevin Bacon all play second fiddle to a balding Johnny Depp in this often grim dramatization of the 1975-1995 criminal career of South Boston's Irish mob leader, James "Whitey" Bulger.
Not since Public Enemies in 2009 has Depp had the opportunity to shift from wacky wally to wryly wretched, but Black Mass is just that solemn showcase. Portraying the feared and felonious Whitey, head of the Winter Hill Gang – and brother to Massachusetts State Senate President, Billy Bulger (Cumberbatch) – makes for a stark (and welcome) change of direction for the Hollywood heartthrob, who has made quite the name for himself playing camp and colourful extroverts.
Entering into a problematic devil's deal with childhood pal and FBI agent John Connelly (Joel Edgerton) to act as a "criminal informer", Whitey believes that by getting the Feds to fight his battles for him and bring down the Italian mob, he will receive free reign to do whatever he likes. But the tragic deaths of his young son (Luke Ryan) and elderly mother (Mary Klug) pushes the infamous crime lord – and his 'business associates' – further down a dark path from which there is no immunity.
"It's not what you do, it's when and where you do it."
Ostensibly comparable to last year's Tom Hardy double-hander Krays biopic Legend (in theme if not in period detail), director Scott Crazy Heart Cooper instead avoids any whiff of grisly black humour here, playing this violent thriller deadly straight. There are attempts to endue Bulger's wrongdoing with a maudlin rationale, but t
he steely-eyed and stony-faced gangster is too depraved to evoke compassion.
On the run for eleven years and only arrested in 2011, Black Mass's persistently sombre and severe tone achieves the desired effect of painting the life of a "strictly criminal" felon as a despairingly lonely one.
CR@B Verdict: