12A – 147mins – 2016
---
WHERE DOES THE BUCK-Y STOP?
Armageddon and Deep Impact in 1998; The Descent and The Cave in 2005; The Prestige and The Illusionist in 2006 – Hollywood has a quirky knack for throwing up two cannily-comparable films at the same time. So it is again in 2016 with the third Captain America adventure arriving just a month after comic-book rival Batman v Superman: Dawn of Justice covered spookily similar narrative ground.
It was inevitable, really, what with DC Comics desperate to follow the bankable Marvel mould and set up a Justice League universe akin to the MCU, and with the once frivolous cape 'n' cowl genre now mining more cerebral storylines in an effort to bring their politics and pathos in line with their out-of-this-world fights and FX.
Clearly everyone likes a bit of healthy competition, from film studio bigwigs to men in tights. In Civil War, directed once more by the Russo Brothers, the great and the good of Marvel Comics' superhero cannon are pitted against one another when their position on how they fit into humanity's system of law is thrown into dispute.
While BvS let the diplomatic dealings quietly die in the background as the spectacle took centre stage, Christopher Markus and Stephen McFeely's CW script does a better job of having the ructious plot run throughout its protracted runtime: should the Avengers with their inhuman abilities and city-flattening technology have the right to freely enter into dangerous and life-threatening situations without government oversight?
The catalyst for this quandary is the frequent infrastructure and collateral damage which follows in the super-team's wake (we've all seen them contentedly chow down on shawarma following the rubble-heavy climax to Avengers Assemble), most recently the accidental bombing of a building in Nigeria as Steve Rogers (Chris Evans) et al set about stopping the theft of a biological weapon.
But while iron-suited billionaire Tony Stark (Robert Downey Jr.), guilt-ridden over his role in creating Ultron in 2014's average Avengers sequel, fully supports government sanctions to keep the team inside the law, Steve rejects such restrictions in his ongoing fight for justice. In refusing to sign the bill designated the Sokovia Accords, the Avengers are split and comrades become rivals.
"We're still friends, right?"

"Depends how hard you hit me."
Essentially, by breaking free from the Accords and following his own ethical path, Captain America and those that follow him are deemed criminal vigilantes who need to be apprehended. Except you never really get a sense of actual disapproval from either side of the fence. While the Dark Knight was full of solemn snarling in his outrage at Superman's destructive approach in Dawn of Justice, Civil War still sees the contentious chums bantering and pulling their punches while supposedly fighting tooth and nail for what they believe in.
Picking up on character threads from The First Avenger (2011) and The Winter Soldier (2014), the aged Peggy Carter's plot is resolved without her being on screen, while H.Y.D.R.A.'s revival of Steve's old WWII friend "Bucky" Barnes (Sebastian Stan) is the clincher in Steve's decision to not follow the government act. These elements aside, Civil War always feels more like a sequel to Age of Ultron than it does a third Cap film – it stars a vast, A-list ensemble cast gathered from an already grand 13-film sequence, which is only growing larger with every passing year and box office smash.
This is not the film to start your Marvel journey on! But unlike other epic-lengthed blockbusters with ballooning casts grappling for attention, Civil War never feels unwieldy. It also manages to never lose narrative focus or have needlessly digressive or ponderous dips in the action, keeping you alert and attentive until after the second end credits sequence.
The much-publicised new recruits threaten to steal the show, with the vengeful Black Panther (Chadwick Boseman) and yet another new Spider-Man (in the form of amiable high school quipper Tom Holland) granted far more screen time than I ever imagined, successfully getting their feet under the Marvel table in a thrilling mid-film airport smackdown. Even more surprising is that it is Iron Man who is dealt the film's emotional sucker-punch at the crescendo, serving to further push Steve Rogers from the spotlight in his own film.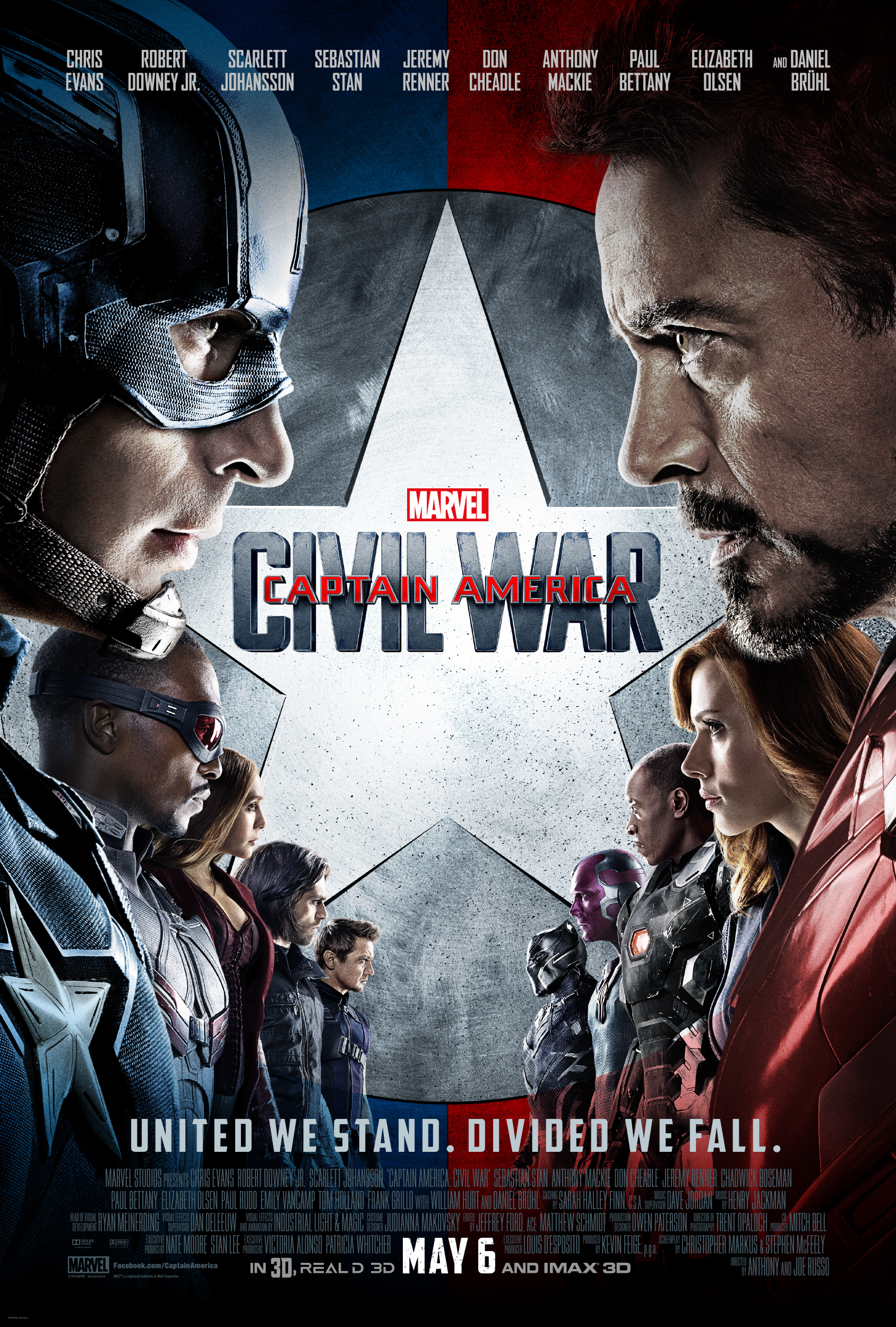 But such observations are incidental and never detract from either the narrative or the action. On both of those scores, Captain America: Civil War is an out-and-out success, balancing character-shaping story development with sly humour and witty references, sensitive insights, shocking surprises and grand scale, globe-hopping, heart-pumping adventure. It's not as uniquely uproarious as Deadpool, but it will better reverberate with all demographics. Thor and Hulk will be sorry they missed this wild ride, while DC Comics will be outright jealous.
CR@B Verdict: