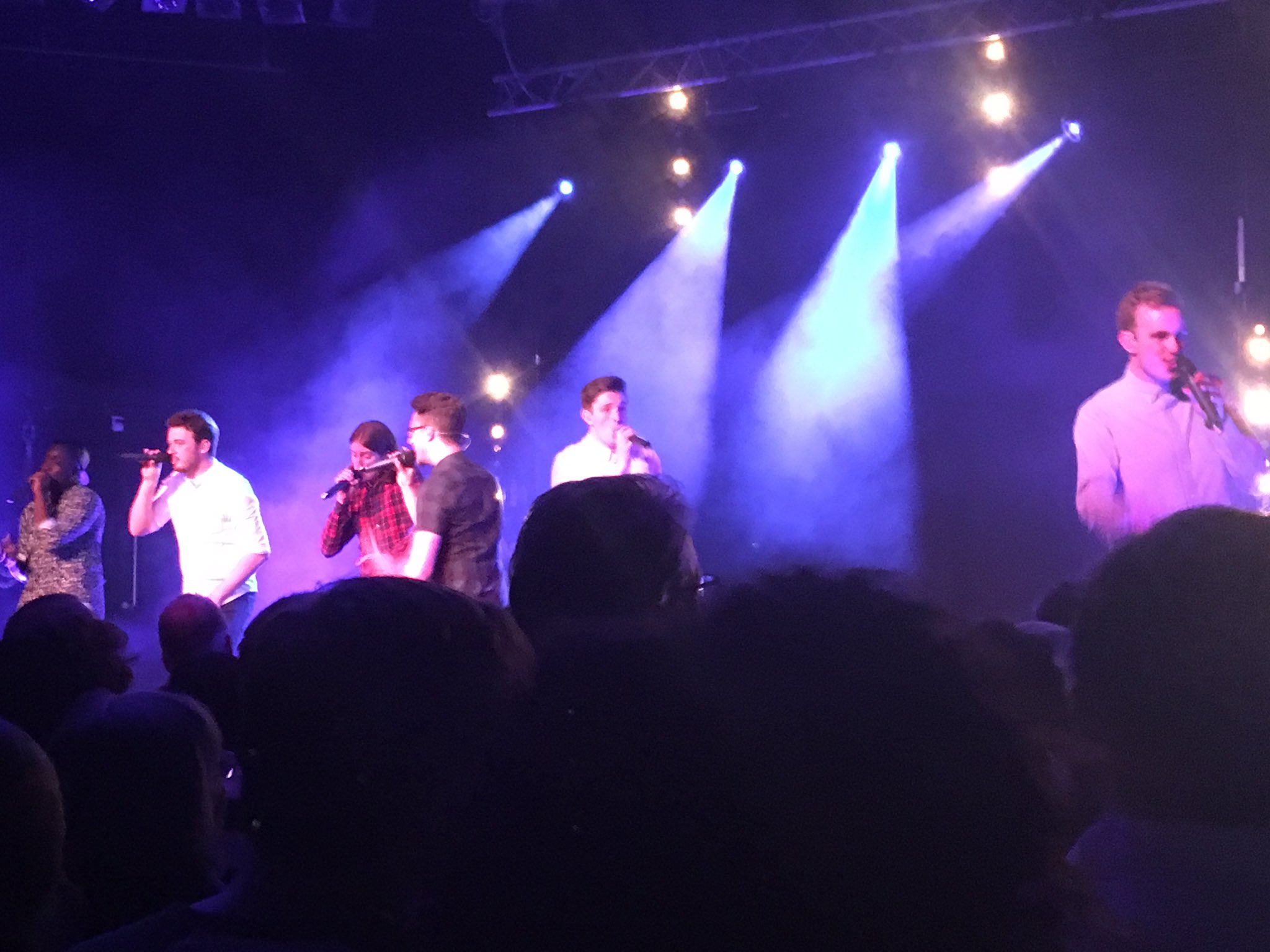 The Junction, Cambridge – Friday 10th June 2016 – 7pm
---
ACA-FELLA VOCAL GROUP
Having quit their day jobs and hit the recording studio since they won Gareth Malone's The Naked Choir on BBC 2 last November, a capella six piece Sons of Pitches have now hit the road for a 26 date headlining theatre tour.
Last night's stop at beatboxer Midé's home town of Cambridge was their first and only gig where the audience were standing – not that this change of atmosphere affected the banterful British band, as they were on exceptional form throughout their two act 90minute instrument-less set at The Junction's J1. Besides, an unabating standing ovation was no less than they deserved!
Keyboardist and singer Jessica Rhodes – who is normally backed by a five-piece band but had to make do with just acoustic guitarist Luke – made for an appropriately complimentary warm up act, perfectly combining laidback tracks with a fierce and fiery vocal during a punchy 20minute set.
Audience reaction amplified remarkably when the Joes (Belham, Novelli, Hinds), Midé, Josh and Jamie hit the stage just 5 minutes later, instantly impressing with a perfect fusion of audience interaction, confident banter and enviable talent.
Opening with an in-song introduction from each vocal maestro, the laugh-rate was always entertainingly high. At one point an audience member (of questionable willingness!) was decked out in fancy dress Mexican garb and made to dance with maracas, waiting for the microphone to be thrust his way to shout "Tequila!"
All the songs which saw them victorious in the TV competition (Wuthering Heights, MMMBop in 10 genres, Move, True Love Ways and their Grand Final-winning medley) were well smattered throughout the evening, making for an audience-pleasing diversity of tempos, years and genres (everything from a lengthy boyband medley to dubstep, via Outcast!), while interaction with the up-for-it crowd made for arguably the show's highlights.
Rearranging well known songs to suit and astound in a capella is a hard enough task when given rehearsal and editing time, but for Sons of Pitches to TWICE create impromptu songs before our eyes last night was a real treat, bringing back memories of Showstopper! The Improvised Musical. With the crowd consulted for Cambridge-relevant topics ("Universities!", "Cycling!", "Casual sex!" – I wish I was joking) and alternative genres which were written down and added to a pint glass, we witnessed the first ever Christmas song about punting(!). Later in the evening the last line of people's text messages were polled to create a nursery rhyme/musical fusion called "The Swingball is in the Triangular Shed."
Such ingenuity was commendable and the group's pleasure at what they created was palpable, further fuelling their enduring energy, which carried through to a climatic preview of their very own songs, written for their upcoming second album. With so many complex layers to each track it's difficult to instantly fall in love on a first listen, but the arrangements and delivery were unquestionable stunning – a word which perfectly sums up last night. I will definitely be seeking out tickets for their follow-up tour this November – whether standing on not.
CR@B Verdict: