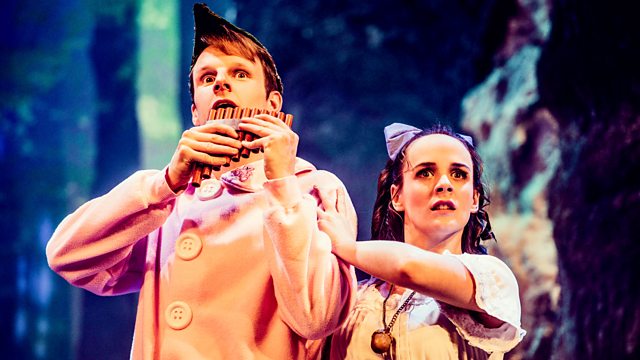 BBC One – Saturday 31st December 2016 – 6:20pm
Written by: Henry Lewis, Jonathan Sayer, Henry Shields
Directed by: Dewi Humphreys
---
THE SHOW MUST GO ON
"This is a serious play, it's NOT a pantomime!"
Presented as a televised live performance by a hapless amateur dramatics company who (somehow) won a Community Stage award and were granted the presence of professional actor David Suchet to narrate their "Christmas vignette," Peter Pan Goes Wrong is in fact an innovative meta comedy of errors from experienced Olivier Award-winning Troupe Mischief Theatre which mixes farcical slapstick with the awkwardness of embarrassment.
While the play proper is on a run in the West End at the Apollo Theatre until the end of January, this recorded production was granted a prime evening broadcast on BBC One on New Year's Eve. Unanimously positive social media feedback, as well as enthusiastic recommendations from friends – one of whom praised it as "the funniest thing on TV this Christmas" – encouraged me to seek this treat out on iPlayer.
From set malfunctions to missed cues, nervous actors, off-stage squabbles boiling over and stunt slip-ups leading to multiple ambulances being called, everything that actors and stage directors fear could go wrong on the night does go wrong for The Cornley Polytechnic Drama Society, but they battle through disaster-after-disaster, often by Hook or by crook (geddit?!), to deliver a truly, err, memorable rendition of J.M. Barrie's children's classic. Neverland will never be the same again!
"This is a terrible show…. of cowardice, Tiger Lily!"
While I commend the skill and bravery of a professional production which is meant to be terrible (it's harder than it looks to make it look genuine), and some scenes did cause sniggers ("Only pedalos on the lake!"; "Not my haaaaat, why would I need a haaaaat?!"), I had certain quibbles which kept this purposeful chaos just shy of perfection for me.
Firstly, the theatricality of it shook me out of the 'reality'. This may seem like a futile statement to make of a theatrical production, but there was an element of actorly exaggeration which I perceived in the very first line spoken by the talking heads during the opening VT which kept reminding me that this was staged to fail; such persistent prompting pulled me out of the humour of the situation. The same is also true of Suchet's all-too-calm reactions. Whether trying to keep things professional or not, I can't imagine someone as renowned as he would put up with such sustained incompetence.
Secondly, whereas such mega-hit cringe-comedies as The Office and Knowing Me, Knowing You enhanced the ineptitude of their clowns David Brent and Alan Partridge by contrasting their buffoonery with silent shock or patent outrage from onlookers, in Peter Pan Goes Wrong the in-house audience cheer and laugh at everything (which I'm sure you would do if you knew mayhem was meant to ensue), even when Tinkerbell is electrocuted and Peter Pan is stretchered off! This is not a human or realistic reaction to disaster.
Finally (because I realise I'm starting to sound like a totally Scrooge), I felt like the failures began too soon (Suchet is shocked by a miscued electrical shower during his introductory narration) and escalated too quickly, meaning things had to get ever-bigger (and ever-more dangerous) as the play roared towards its grand finale. Sure, watching a Pirate ship careen through BBC News studios and the Teletubbies set is comical, but it was too farcical to be believed.
In conclusion, Peter Pan Goes Wrong is wonderfully amusing and makes for suitably outrageous festive programming for the whole family. I'm sure the live experience at the Apollo is an uproarious blast, but there is no way it would ever have been allowed to stay on air for a full hour.
CR@B's Claw Score: